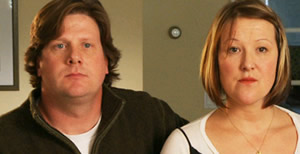 Robb and Susan Swimm.

Eagle-Vail boy sued in Beaver Creek ski accident featured in lawsuit-abuse movie trailers
By David O. Williams
May 11, 2009 — It's not your typical pre-movie popcorn fare, but Denver-area theatergoers starting Friday were "treated" to a short trailer produced by the U.S. Chamber of Commerce targeting lawsuit abuse and featuring an Eagle-Vail boy sued in a ski accident in 2007.

The Chamber's Institute for Legal Reform's (ILR) Faces of Lawsuit Abuse campaign featuring the Swimm family has thus far been relegated to the Internet, but its theatrical release signals a ratcheting up of the stakes in a case that garnered national headlines last year.

Scott Swimm, 7 at the time, was sued and served papers at his home by sheriff's deputies after an incident at Beaver Creek ski area in which he skied over a Pennsylvania man's skis and caused him to fall. The Swimms said Scott was trying to avoid the man after being cut off, but their insurance company eventually settled with the plaintiff.

The Swimms were seeking changes to the Colorado Skier Safety Act that would exempt children under a certain age from being sued. The plaintiff's lawyer said the case was a clear violation of that law, which puts the onus on the uphill skier in collision cases.

"Lawsuits are turning the American dream into a litigation horror film," U.S. Chamber ILR President Lisa Rickard said in a release. "This movie trailer about the Swimm family's legal nightmare warns that even those who play by the rules can still have their lives turned upside-down by costly, frivolous lawsuits."

RealVail.com posted a story on the case last May. Check out the Swimm lawsuit story for more details.


Comment on "Eagle-Vail boy sued in Beaver Creek ski accident featured in lawsuit-abuse movie trailers" using the form below