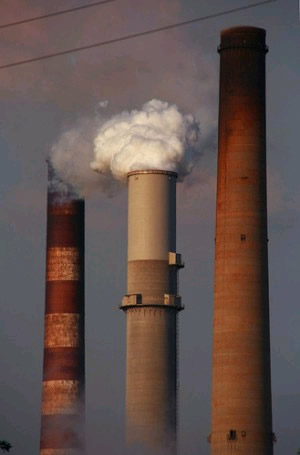 Energy attorney says electric co-ops like Holy Cross legally obligated to divulge risks of coal
By David O. Williams
June 2, 2009 — Rural electric co-ops that gamble on low-cost coal while largely keeping their member-owners in the dark about future financial risks may be playing with federal regulatory fire in the form of the Sarbanes-Oxley Act of 2002, according to an attorney for the renewable-energy sector.

Ron Lehr, attorney for Interwest Energy Alliance and former chairman of the Colorado Public Utilities Commission (PUC), said board members of rural electric co-ops need to go to great lengths to divulge to their members the potential risks of investing in coal-fired power plants with a possible federal carbon tax or cap-and-trade policy looming.

While it's far from certain the Obama administration and Democratic-controlled Congress will be able to impose carbon limits as part of the American Clean Energy and Security Act, renewable-energy advocates say it's only a matter time, making over-reliance on cheap but dirty coal-fired plants a risky long-term bet.

Two of Colorado's co-ops — the Intermountain Rural Electric Association (IREA) on the Front Range and Holy Cross Energy on the Western Slope — invested $366 million and $100 million respectively in Xcel Energy's new Comanche 3 coal-fired plant near Pueblo. Both co-ops have publicly stated they did so to procure a cheap, stable base load.

But cap-and-trade or a carbon tax could significantly penalize coal-fired power plants, which produce 50-percent more carbon than natural gas-fired plants.

"If you don't make any reasonable disclosure of risks attendant on your business, as a director and officer, if that risk turns out to hurt shareholders and shareholders find cause of action and bring it and are successful, then the directors and officers might be personally liable," Lehr said, referring to Sarbanes-Oxley, which was passed following the Enron, Tyco and WorldCom accounting scandals earlier this decade.

"So there are a lot of companies that are disclosing these risks now, and that's the standard to which these directors and officers are held. What are reasonable directors and officers in similar circumstances doing? And many of them are investigating and disclosing these attendant carbon risks."

The IREA and Holy Cross board decisions, made with minimal debate and publicity, locked in electricity — at least for now — at about four or five cents a kilowatt hour. An IREA spokesman said even a two-cent per kilowatt-hour increase resulting from a carbon cap would be worth the risk, with a full 50 percent of the co-op's base load coming from Comanche 3.

Tom Turnbull, president of the Holy Cross Energy board, did not return a call requesting comment, but Marshall Foote, his challenger in the current board election to be decided June 5, questioned the disproportionate (compared to renewables) investment in Comanche 3, which will provide a third of the Holy Cross load.

Turnbull, in his Board President's Report in the current Holy Cross newsletter, acknowledged the risk after the fact:

"Despite the present cost-effectiveness of coal generation, the cost risk has become increasingly more apparent as the national debate on greenhouse emissions, 'cap and trade,' policy or a direct carbon tax gets underway in earnest with the new administration in Washington," wrote Turnbull, a Carbondale rancher and longtime Holy Cross board member.

Turnbull went on to express relief that the American Clean Energy and Security Act, which he calls a "climate change bill," will be debated in the full Senate on its own merits and not as part of an overall "budget reconciliation package," so it will require a 60-vote margin as opposed to a simple majority.

Then he quoted Republican Sen. Mike Johanns of Nebraska: "Haste leads to error and consequences and climate change legislation is too expansive to get it wrong." Turnbull concludes: "We might add expensive to that analysis also!"

When surveyed, Holy Cross members have expressed a willingness to put environmental impacts before cost when it comes to their power supply.

The Colorado PUC is currently considering whether to increase its oversight of Tri-State, a Westminster-based co-op that's the state's second-largest utility behind only Xcel Energy. Part of that debate centers on the percentage of co-op's load coming from coal-fired plants.

Tri-State provides the majority of power to 18 of the state's 22 rural electric co-ops, but the IREA and Holy Cross are two of the four that aren't members and therefore would not be subject to increased PUC scrutiny.

Comment on "Energy attorney says electric co-ops like Holy Cross legally obligated to divulge risks of coal" using the form below