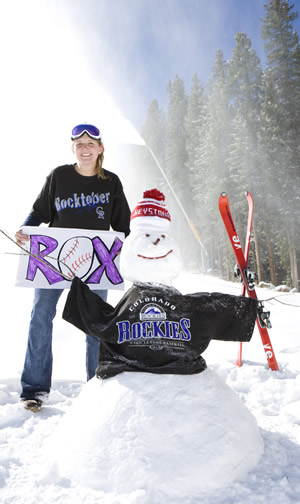 Colorado ski resorts such as Keystone (pictured here) are feverishly working to garner national television coverage during the World Series this weekend.
Courtesy of Keystone
Ski industry hopes to hit grand slam with World Series
Lodging deals, skiing footage linked to national, international TV coverage
By David O. Williams
October 24, 2007 — The day after an otherwise mundane Monday Night Football game in Denver on Oct. 15, 1984, was the Super Bowl of ski-resort reservations, industry veterans will tell you. That was the Blizzard Bowl, when a young John Elway earned a frosty victory over the Green Bay Packers.


Twenty-three years later, the Pack is back for a Monday Night Football matchup with the Broncos Oct. 29, which may just happen to coincide with Game 5 of the World Series between the Colorado Rockies and Boston Red Sox at Coors Field in Denver (if necessary).


Ski industry officials are not-so-quietly hoping for some decidedly un-baseball-like weather that night, although long-range forecasts don't look promising for any nationally televised snowfall.


"I hope it snows down there a little bit, or it can rain down there as long as it snows up here," Keystone spokeswoman Amy Kemp said. "Colorado is known for its skiing, and when it snows (on national TV), it reinforces that around the nation as well as overseas. It's a grand slam to have the World Series here."

Keystone deals
Keystone's Home Run Deal – Book a vacation to Keystone during the World Series and get a night at the Inn at Keystone during off-peak dates between Nov. 11 and April 12 for $98 per night. Call (800) 468-5004 and reference the 8KROCKIES package.

Keystone's Grand Slam Deal - Present a Colorado Rockies ticket stub for a playoff or World Series game and get a free night of lodging during with the purchase of two nights of lodging Dec. 14-21 or three nights of lodging Feb. 1-29. Call Call (800) 468-5004 or go to http://keystoneresort.com.

Although it doesn't open until Nov. 9, Keystone ski area is offering free or discounted lodging for ski vacations booked during the World Series or with a valid National League playoff or World Series ticket stub.


Meanwhile, the state's other resorts are feverishly trying to capitalize on the national and international media attention the World Series is focusing on the state at a time when most resorts are only now gearing up for the season.


But two areas are currently up and running – Arapahoe Basin and Loveland – and have received surprisingly good snow this month. With up to 3 feet at higher elevations so far in October, both A-Basin and Loveland have been featured on national and international television stemming from the Colorado Rockies' amazing playoff run.


"We think it's great people are looking at Colorado right now, and a big part of Colorado is skiing," said Leigh Hierholzer, A-Basin's director of sales and marketing. "It's been white for a while now up here, and it is pretty exciting. It's a winter wonderland up and here, and we hope it keeps it up."


Kathryn Johnson of Loveland, the closest ski area to Denver, said a Japanese TV news crew covering the World Series and Rockies' second baseman and former Japanese All-Star Kazuo Matsui shot footage at Loveland Oct. 18.


"They're here to cover the World Series, but specifically Matsui, and they had seen that we were open and wanted to come up and talk about skiing, so obviously there's going to be some piggybacking just by the fact that this is a unique World Series story for sure," said Johnson, who added there are not too many places that can offer baseball and skiing on the same day.


Hierholzer confirmed footage of opening day at A-Basin on Oct. 10 - the earliest in the resort's 61-year history - was aired on a TBS pregame broadcast during the National League playoffs. A film crew also shot footage at A-Basin Oct. 19 in hopes of landing a skiing clip on a FOX pregame broadcast beginning with Wednesday's Game 1 in Boston.


Colorado $2.6 billion ski industry (second only to agriculture in terms of revenue) accounted for 23 percent of all skier visits nationwide last ski season, setting a record for the second straight season with 12.56 million skier visits.


"We see reservations rise (when it snows on national TV)," said Nick Bohnenkamp, spokesman for Colorado Ski Country USA, the industry's nonprofit lobbying group. "The hardcore riders already booked their ski vacation and they know A-Basin and Loveland are open. But people who are undecided as to what they're doing for their vacation, if they see it's snowing in Denver, they think there has to be twice as much snow in the mountains."


Comment on "Ski industry hopes to hit grand slam with World Series" using the form below