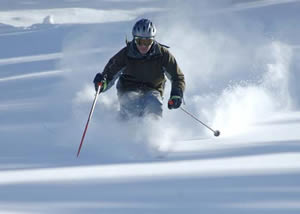 The annual SIA ski show, a January fixture for many Vail retailers, is charging into Denver in 2010 after 35 years in Las Vegas.
By Dan Davis
trekkerphoto.com
SIA ski show moving from Vegas to Denver
By realvail.com
October 31, 2007 — SnowSports Industries America (SIA) Tuesday announced it's moving its annual ski show to Denver in January of 2010 after 35 years of holding the SIA SnowSports Trade Show in Las Vegas.


Colorado Gov. Bill Ritter and Denver Mayor John Hickenlooper joined officials from the Denver Metro Convention & Visitors Bureau and the Colorado Convention Center in Denver to announce what will be the largest convention booking in the city's history.


The four-day event attracts 20,000 ski and snow sport retailers and manufacturers and will have an annual economic impact of $30 million, officials said. SIA has signed an agreement to hold the event in Denver for 10 years.


"This will be one of the largest conventions held in Denver every year and even better, it comes in January, traditionally one of the slowest months of the year," said Convention Bureau President & CEO Richard Scharf.


"The 10-year agreement makes this the largest convention booking in Denver's history. With the growth that is expected in the show, SIA SnowSports Trade Show delegates will spend more money in Denver over the next decade than the original $350 million cost of expanding the Colorado Convention Center," Scharf said.


Ritter welcomed the news: "It's no secret that Colorado is regarded around the world as the snow sports capital of America, so it is a great natural fit for us to host the premiere snow sports industry trade show. This event will bring great economic benefit to Denver, and it will also generate tremendous interest in snow sports in general, boosting winter tourism throughout Colorado."


Hickenlooper added: "We expanded the Colorado Convention Center so we would have the capacity to attract large events like the SIA SnowSports Trade Show. The 20,000 people that come to this show every year will generate revenues that support local jobs, stimulate our economy, and reduce the tax burden on our local residents."


The bureau has been working on booking this convention for four years, Scharf said. "The Colorado Convention Center was too small for this show before the expansion, but with the expansion opening in December 2004, and the new Hyatt Regency at Colorado Convention Center and the other new hotel development, Denver was able to put together a very attractive package for SIA."


Conventions in the city have been booming since the expansion opened. The 2006 was the busiest year on record; 2007 is posed to break that record, with 2008 looming on the horizon as the potential to be the best year ever, highlighted by the Democratic National Convention. That one-time event will attract 35,000 people.


Comment on "SIA ski show moving from Vegas to Denver" using the form below