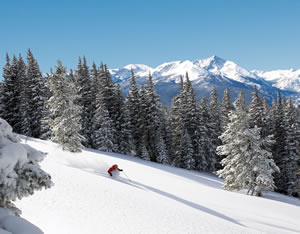 How quickly scenes like this will cease in Vail's Sun Down Bowl on powder-day mornings if Chair 5 is replaced with a high-speed remains to be seen. But Vail Resorts would like to get rid of the creaky old lift and add another one in the bowl.
By Jack Affleck/Vail Resorts
vail.snow.com/winter/
Some say it's high time to ditch High Noon
But others fear chairlift change in Vailís Sun Down Bowl
By David O. Williams
December 12, 2007 — Only in a ski town can issues as seemingly mundane as simply upgrading an old chairlift take on such enormous gravity for the local snow-riding citizenry.


But depending on who you ask, Vail Resortsí tentative plans Ė first floated several years ago Ė to tear down the creaky old triple lift in Sun Down Bowl and replace it with a high-speed lift of some sort is either the end of the world as we know it or the best idea since shaped skis.


Some of the opponents of such a move - which VR has presented to the U.S. Forest Service in the form of a revised master development plan for Vail Mountain covering the next 5-7 years Ė probably are still on straight skis and never really bought into the whole parabolic thing.


They feel a high-speed chairlift in Sun Down Bowl would cause it to be skied out even faster on powder days and change the whole retro feel of that section of Vail Mountain. Proponents of replacing Chair 5 (the High Noon lift) say itís a relic that causes major bottlenecks on a mountain that on busy days can accommodate 20,000 snow riders.

How to comment
Written, fax, hand-delivered, oral and email comments on the Vail Mountain improvements will be accepted until Dec. 17. Address all comments to Maribeth Gustafson, Forest Supervisor, c/o Roger Poirier, Winter Sports Program Manager, White River National Forest, P.O. Box 948, Glenwood Springs, CO 81602-0948; Fax - (970) 945-3266; or by e-mail to wrnf_scoping_comments@fs.fed.us.

For additional information on the project, contact: Don Dressler, Snow Ranger, Holy Cross Ranger District, 24747 U.S. Highway 24, P.O. Box 190, Minturn, Colorado 81645. Dressler can be reached by phone at (970) 827-5157 or by email at drdressler@fs.fed.us., or contact Roger Poirier, Winter Sports Program Manager, White River National Forest, P.O. Box 948, Glenwood Springs, Colorado 81602-0948. He can be reached by phone at (970) 945-3212 or by email at rpoirier@fs.fed.us.


Vail first broached the idea several years ago but was told by the Forest Service, which leases the land to Vail Resorts, that when Blue Sky Basin was approved, the ski company agreed that all future improvements would be part of a comprehensive master plan.


So Vail pulled the proposal and redid its master plan, an advisory document the Forest Service recently approved. Each of the components of the new master plan must now be separately approved pending public input.


If approved by the Forest Service, work on the new Chair 5 could begin as early as this summer, with the lift coming online for the 2008-09 ski season.


Huge lift lines in the Chair 5 maze will likely convince most people to support that aspect of the plan, but proving more controversial is a proposal to add another lift to Sun Down Bowl. It would start roughly in the same place as Chair 5 and head up the mountain between Straight Shot and Rickyís trails, with a top terminal between Wildwood restaurant and the top of Chair 7. That lift is at least two or three years away.

In an email circulating in opposition to that aspect of the plan and urging people to comment to the Forest Service by the Dec. 17 deadline, a writer who asked to remain anonymous opined: ďIt's my belief that most of the attached improvements will be a good thing for Vail Mountain, however I am really against the additional lift capacity being asked for in the Back Bowl area.


ďThe Back Bowls have very unique characteristics, and additional lifts bringing additional skiers to that area will only bring more bumps. You can ski that type of terrain anywhere else on the mountain, or at any other ski area in the state for that matter.Ē


Also included in the new plan:


ē A new restaurant at the top of the mountain where Chairs 4, 5 and 11 converge. Again, that proposal is several years out and subject to Forest Service approval. Size and design have not been determined.


ē Extension up the mountain of the current race venues on Golden Peak to accommodate and International Ski Federation (FIS) womenís downhill or menís super-G. With support from Ski Club Vail, Vail Resorts would build and maintain the facilities, which are not related to Vailís bid for the 2013 World Alpine Ski Championships.


ē Additional snowmaking, mostly on the west side of Vailís Front Side in the upper Simba area, to provide early season top-to-bottom skiing off the Eagle Bahn Gondola.


Vail Resorts officials declined to comment on the new master plan because none of the proposals have been approved, but there are certainly a lot of other opinions floating around out there.


Don Dressler, snow ranger for the Holy Cross Ranger District, said the Forest Service has been seeking out all of those opinions during a 45-day scoping period that ends Dec. 17.


At least one local ski retailer thinks itís high time to say goodbye to the High Noon lift.


ďItís an old lift, and I think that it would be a nice upgrade to put in a nice, comfortable, high-speed triple or high-speed quad, although it was always nice for us old guys to give our legs a rest,Ē said Billy Schoff, hard-goods manager for Gorsuch in Vail Village.


ďI donít think it will diminish the ski experience. People will get cleared out of there and itíll move them over to China Bowl and Blue Sky that much quicker.Ē


Other snow riders agree with the need to replace Chair 5 but donít like the idea of the new lift. Dressler says that proposal is also about improving the flow of skiers on the mountain.


ď(The new lift) would alleviate some of the congestion with Chair 11 at Northwoods, where a lot of people use that at the end of the day to get back to Lionshead,Ē Dressler said. ďThe west-to-east (flow) in the morning works pretty well; itís the east to west that kind of bottlenecks at the end of the day, as Iíve witnessed firsthand when Iíve been stuck in 40-minute lift lines at Northwoods.Ē


2 Comments on "Some say it's high time to ditch High Noon"