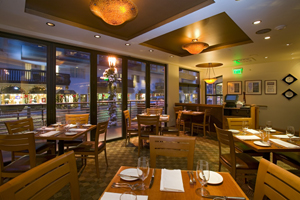 Sweet Basil has been held in high esteem for 30 years, in part because of its lovely space in the center of the Vail Village.

Sweet Basil celebrates 30 years
Vail's premier restaurant 'never satisfied' since 1977
By realvail.com
December 11, 2007 — In the world of fine resort dining, there's a lot more to longevity than a signature dish.


This can be especially true in Vail, where there are more Wine Spectator Award-winning establishments than any other resort community in the United States.


Even among so many fine restaurants, Sweet Basil stands apart, and has been doing so for three decades.


"It's been a great 30 years; I've had a lot of great people," says Kevin Clair, who founded Sweet Basil, in the heart of Vail Village, in 1977. "It's a business, and a passion, but it has to all work."


Visitors to the online Zagat Survey recently voted Sweet Basil, with a list of more than 500 fine wines, Colorado's most popular restaurant.


And Giada De Laurentiis featured Sweet Basil recently in a segment of her syndicated show, "Giada's Weekend Getaways," on the Food Network.


Unlike many other fine restaurants in Vail — where crowds, and eateries, come and go with the seasons — Sweet Basil is open for lunch and dinner nearly every day of the year, with reservations always recommended. That feat has provided the opportunity for hundreds of people — chefs, cooks, managers, servers and bartenders — to add Vail's premier restaurant to their résumés.


At last count, more than two dozen former employees of Sweet Basil — from busboys and waiters to managers and chefs — have gone on to own or partner in their own fine dining establishments, not only in the Vail Valley but in places like Denver, Tucson, Ariz., and Washington D.C.


They praise Clair for challenging and inspiring them to do great things.


"Kevin's a real pioneer of Colorado cuisine. He's always pushing for quality and doesn't accept anything less. He's constantly developing the menu, searching for something better, and he wants his staff to be better, too," says chef Alex Seidel, Sweet Basil's chef de cuisine for three years before leaving to start his own highly acclaimed establishment in Denver, Fruition Restaurant.


"Being in business for 30 years is a tribute to him, for being able to recruit and train all these good people — and to make it all fun — while serving 300 or dinners a night."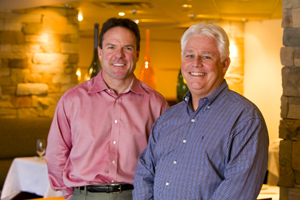 Sweet Basil partners Matt Morgan, left, and Kevin Clair.


Perhaps Clair's degree from the University of Denver's School of Hotel & Restaurant Management and his apprenticeships at three-star restaurants in France — Maxim's in Paris and Ousteau de Beaumanière in Provence — have something to do with all the success. Or perhaps it's his closest advisor, Matt Morgan, who came on as busboy in 1987, working his way up to bartender, then manager, before Clair made him managing partner in 1999.


"First rule of business is to stay in business," says Morgan, adding Sweet Basil's "culture of excellence," in which the management team and staff are "never satisfied," has been key to their success.


Clair and Morgan, for example, regularly study other fine restaurants, traveling to the centers of haute cuisine — New York City, Los Angeles, Chicago and San Francisco — and taking other members of Sweet Basil's management team with them, to peruse the menus and observe the latest trends.


"Sweet Basil never rests on its laurels as, say, the best restaurant in Vail," says Bruce Yim, executive chef at Sweet Basil for eight years before moving to Tucson as co-owner of a new restaurant there, Vin Tabla. "We would compare ourselves to the best restaurants in the country. Working at Sweet Basil is a great experience."



Staying 'enticing'


The lunch and dinner menus at Sweet Basil — featuring what Clair describes as "creative, contemporary cuisine with international influences" — are eternal works in progress, changing season-to-season, sometimes even month-to-month, to take advantage of fresh ingredients and styles. The constant, "ingredient-driven" refinements can be a challenge for everyone — even the customers — but the staff remains interested, and engaged.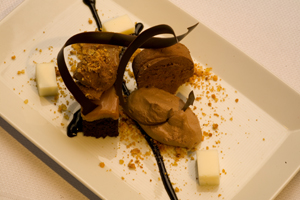 One of Sweet Basil's signature desserts.

"It keeps things enticing," Yim says.


Annika Stensson, media relations manager for the National Restaurant Association, says any restaurant remaining in business for 30 years deserves enormous respect.


"Obviously, the restaurateur is doing something right," Stensson says.


"Being located in a resort location may secure seasonal customer traffic, but to succeed in the long term the restaurant needs to please the local clientele, as well."


There's no customer more loyal to Sweet Basil than Rod Slifer, who lives in a penthouse apartment above Sweet Basil and has dined there regularly since the doors opened.


"Sweet Basil's really professional in everything they do," says Slifer.


"They've done a great job."


For more information about Sweet Basil, or to make reservations for lunch or dinner up to two months in advance, visit www.sweetbasil-vail.com or call (970) 476-0125.



Comment on "Sweet Basil celebrates 30 years" using the form below