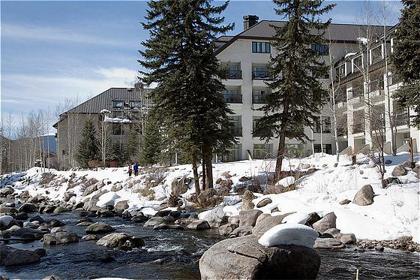 A view from the southern side of the Vail Cascade Resort where Vail's newest four-star dining experience will be located. Atwater on Gore Creek will offer a casual tavern and elegant dining.
Photo courtesy of Vail Cascade
vailcascade.com
Vail Cascade offers new four-star dining with Atwater on Gore Creek
Restaurant features two distinct experiences: a casual tavern and elegant dining
By realvail.com
December 18, 2008 — The new Atwater on Gore Creek restaurant at the Vail Cascade is firing up a new four-star dining experience and it is using its unique location literally.

Gore Creek runs directly behind the western Vail resort hotel complex, and planners wanted to offer more dining and cocktails right "at the water." The new restaurant is the final phase of the property's $30 million transformation to take advantage of the resort's private location nestled against Vail Mountain and the Valley's most distinguishable creek.

Atwater is scheduled to open Dec. 22, and reservations may be requested following the holidays beginning Jan. 1. The new restaurant will feature contemporary American cuisine prepared by chef Anthony Mazza.

"Taking part in creating a new dining experience at Vail Cascade has been extraordinary," Mazza said. "We've been able to take a four-star experience and give it a homespun, interactive approach. The result is two-thirds tavern and one third fine-dining and that translates to a perfectly approachable option for both local residents and guests to the resort."

Open for breakfast, lunch and dinner, Atwater will feature simple, farm fresh foods and organic products when available from regional farms such as Meadow Mountains and Haystack.

Signature menu items offered nightly at Atwater include appetizers such as Spicy Marinated Shellfish, Pork Rillettes and Seared New York Strip Tartare. Main selections include Kobe Meatloaf with Roast Mushrooms and Whipped Potatoes, and Meadow Mountains Rack of Lamb, and simply prepared beef and fish selections including Colorado Grass Fed Bone-in Ribeye and Colorado Striped Bass.

Dessert selections will include Apple Buckle with Tart Frozen Yogurt, Apple Butter, and Cinnamon Pecan Monkey Bread with Sour Cherry and Vanilla Creme Anglaise. In addition, Atwater will feature its own artisanal products made in-house, such as ricotta cheese, bratwurst, dough for pasta and flatbread, cured pork belly and lox.

Mazza has worked alongside some of the most recognized chefs in the Vail Valley, including Kelly Liken, Daniel Joly and Thomas Salamunovich. His style and passion for regional cuisine stems from a childhood spent alongside his European grandmothers in their kitchens. Mazza received his formal training from Le Cordon Bleu Culinary Program at The Pittsburgh International Culinary Academy. He moved to the Vail area following graduation.

The design and concept of Atwater will be unlike Chap's Grill & Chophouse, which operated at the Cascade until the renovation. The new restaurant will feature two distinct dining experiences providing guests with more choices. A new, casual tavern area will feature drinks, appetizers and small plate items.

Guests also will have the choice of a full dinner menu in the fine dining space. Atwater also increased its capacity to 229 seats due to a 1,380-square-foot addition which takes advantage of the outdoor patio area adjacent to the restaurant. The new area capitalizes on Atwater's unique location relative to Gore Creek and offers fully operable windows that create an indoor-outdoor experience.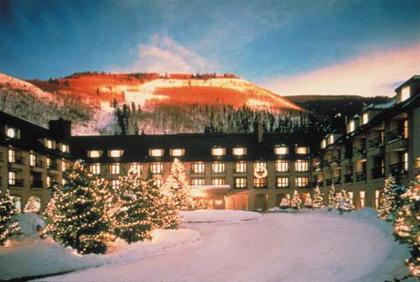 A view of the Vail Cascade front entrance with direct access to Vail Mountain in the background.

The restaurant also will feature a custom wine display unit with an artisinal table and a new modern style steel clad fire place bringing a slope side ambiance to Atwater's two dining experiences. Warm wood tones and colors such as Colorado fall golds, red willow, warm brown tones and brilliant sky blue come together with forged iron details to create the look and feel of Atwater.

The restaurant will include artwork that captures the elements of the surrounding environment. One featured piece includes a large mural of the creek which shows the beauty of the movement of water that is a continual event on Gore Creek.

The mural will have an addition of end cut lodge pole pine panels hung on the mural, giving the mural dimension and texture. Additional artwork will be twig sculptures which bring in the beauty of the creek into the restaurant atmosphere in an organic fashion. Custom iron lighting fixtures accent the artwork and create a warm glow to the space.

Award-winning restaurant consultant Elizabeth Blau and her team at Blau and Associates were brought in to reconcept the restaurant at Vail Cascade and to work with Chef Mazza to create fresh, creative menu selections.

Blau & Associates is a strategic restaurant planning and development company that specializes in providing clients with fresh, creative and sound business advice needed to create exceptional food and beverage concepts. Blau has created restaurant concepts for well-known hospitality organizations such as The Ritz-Carlton, Wynn Resorts, MGM/Mirage Resorts and Trump Entertainment Resorts.

Englewood, Colo.-based Johnson David Interiors handled the redesign, look and feel of the restaurant. The design firm was founded in 1999 and specializes in custom interior design services for luxury resorts, spas, country clubs and selected hotels.

The interiors created by Johnson David Interiors are unique reflections of each client's personal vision and combine timeless quality and contemporary creativity to create environments that are classic and enduring.

For more information or to reserve a table at Atwater (beginning on Jan. 1, 2009), please call (970) 479-7014. For more information about Vail Cascade or to book overnight accommodations, visit www.vailcascade.com or call 800-420-2424.

Comment on "Vail Cascade offers new four-star dining with Atwater on Gore Creek" using the form below