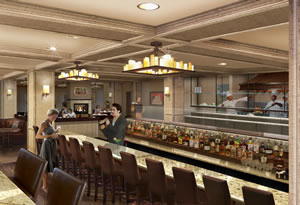 Park Hyatt Beaver Creek launching new 8100 Mountainside Bar and Grill
By realvail.com
November 7, 2008 — Park Hyatt Beaver Creek, at the base of Beaver Creek Mountain, will open 8100 Mountainside Bar and Grill, an innovative restaurant featuring the freshest ingredients from local and national purveyors, in time for Christmas 2008.

8100 Mountainside Bar and Grill is a restaurant concept for Park Hyatt Beaver Creek, located in the space previously occupied by Bivans and Whiskey Elk restaurants.

Opening Dec. 12, the 8100 Mountainside Bar and Grill restaurant will include an open, airy dining space with expansive views of Beaver Creek Mountain, a 20-seat bar, an intimate wine room with chef's table and an open kitchen design featuring a 66 inch wood burning grill.

The grill will be the showpiece of the open kitchen, capturing smoke infused flavors befitting the Colorado Mountains. The visual display and culinary action will create a vibe and energy that can be felt throughout the restaurant.

The fresh produce and ingredients will be hand-selected from Colorado farms and other natural purveyors in the country and will arrive fresh daily. 8100 will feature a menu that changes according to seasonality and availability of only the freshest ingredients.

"We are very excited to be moving into this amazing space with our restaurant 8100," says Chef Reese Hay, Chef de Cuisine of 8100 Mountainside Bar and Grill. "We've searched the state and the country for the best in produce, protein and dairy farmers.

"For example, our buffalo is coming from Great Range Buffalo Farms in North Eastern Colorado. Our salmon and halibut will be flown in daily from Pikes Place Fish Market in Seattle. We are proud of the menu and of the atmosphere that we are creating and think it will appeal to not only resort guests, but locals as well."

With the expansion of the restaurant space from 2700 to 4727 square feet, 8100 will feature a bar area that will become the heart of the new space. The bar menu will offer small plates for sharing and creative items that incorporate the fresh, local fare of the restaurant. Organic wines and offerings from local wineries will be featured on the wine list, along with a selection of Colorado microbrews.

Select organic spirits will be offered, including Colorado's Peak Spirits® from the North Fork Valley. The distillery makes premium organic gin, vodka and brandies, all from locally grown organic fruits and unprocessed CapRock™ water.

8100 Mountainside Bar and Grill will also include a wine room with a chef's table, perfect for guests to enjoy the flavors of Colorado paired with complementary wines. Semi-private rooms are available for larger parties. The renovation of the restaurant added 1900 square feet of semi-private dining space, which raises the total occupancy for group dining in the space to 131 guests.

The re-concepting of the restaurant is the next phase in a series of renovations, which began with a $26 million renewal featuring Allegria Spa and Fitness Center and was completed in January of 2007. The renovations continued with a $4 million renovation of the junior suite and executive king rooms in the resort.

The design of 8100 integrates indoor and outdoor spaces with the use of natural and indigenous elements with a local and contemporary feel. The new space highlights the mountainside setting with spectacular views that span Beaver Creek Mountain. 8100 occupies a prime "beachfront" or mountainside location and will include a unique terrace dining area with alcoves, casual nooks and fire features for gathering after a full day of skiing or hiking in the summer.

The centrepiece of the Alpine-style village of Beaver Creek, the ski-in/ski-out resort is the recipient of numerous accolades, including the 2008 Condé Nast Traveler Magazine's Gold List; 2008 Travel+ Leisure World's 500 Best Hotels; 2007 Condé Nast Traveler Top 50 Resorts in the United States; 2007 Travel and Leisure Top 500 Hotels in the World.

The Park Hyatt has also earned accolades from Gourmet Magazine's #1 Hotel for Skiing/Winter Sports; Condé Nast Traveler Magazine's Top 15 Ski Resorts and Top 50 Golf Resorts; and Travel + Leisure Magazine's Top 50 Hotels in the World.

The hotel is surrounded on three sides by the majestic Rocky Mountains, providing spectacular views from its outdoor dining terrace and fire pit. Every winter and summer mountain activity imaginable is found at its doorstep or can be easily arranged through the Park Hyatt concierge.

From the U.S. and Canada, reservations for any Hyatt hotel worldwide may be obtained by calling (800) 233-1234 or logging onto www.hyatt.com.



3 Comments on "Park Hyatt Beaver Creek launching new 8100 Mountainside Bar and Grill "