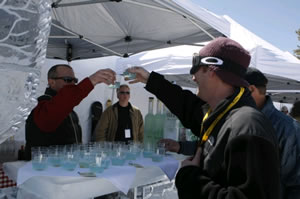 Guests enjoy cocktails at the igloo martini bar by Belvedere at the Mountain Top Picnic at last year's Taste of Vail.
Courtesy of Taste of Vail
Taste of Vail presents all-star lineup of nation's top chefs; offers stellar seminars, events
By realvail.com
March 20, 2009 — Taste of Vail, one of the most fabulous festivals of food, wine and skiing in the mountain West, recently announced its 2009 dates and introduced three of the four guest chefs.

The premier spring food and wine festival will be held April 1-4 throughout the Town of Vail. Welcoming back some of the most anticipated and favorite events such as the Colorado Lamb Cook-Off, Mountain Top Picnic and Grand Tasting, the 19th annual Taste of Vail will also have many new additions, including new food seminars and tastings, sponsored events and of course, acclaimed guest chefs.

Taste of Vail is proud to introduce chefs Marc Forgione, Enzo Fargione, Martin Rios and Giuseppe Tentori to the 2009 festival.


Taste of Vail packages
Taste of Vail, the premier food and wine festival in the nation's top ski resort, is gearing up for a new celebration of food, wine and skiing at the 19th Annual festival April 1-4.
The four-day festival will feature a variety of events from cooking seminars with guest chefs throughout the Vail community to a Grand Tasting Dinner and Dance.
Taste of Vail will showcase more than 35 guest chefs, owners and winemakers from over 50 wineries.
This year, Taste of Vail is offering an all-inclusive pass that will provide access to all Taste of Vail signature events in addition to a VIP gift bag and private parties.
All-inclusive pass, $995
Festival Pass, $600
*Access to all TOV events except the Showcase Dinners
Individual Events:
Après Ski Event, $120
Mountain Top Pinic, $145
Grand Tasting Dinner & Dance, $175
Seminars, $30-50
Events
The 5th Annual Colorado Lamb Cook-Off kicks off the festival in the heart of Vail Village. Guests are invited to sample an array of delicious lamb dishes prepared by Vail's finest chefs and restaurants, guest chefs and the Colorado Lamb Board.
The dishes range from classic lamb chops to exotic recipes and flavor combinations. The many preparations are complimented perfectly with wine selections by the top vineyards and winery owners in the world.
The Bar Chef Mix-Off is a Taste of Vail favorite as Vail's bartenders square off to create the most unique and best tasting cocktail. The "bar chefs" utilize a selected liquor and fresh ingredients to impress a panel of judges and the many guests who come out to participate in this lively event.
Held on the third day of the festival, the Mountain Top Picnic takes guests 10,350 feet above sea level to the scenic Eagle's Nest on Vail Mountain. A one-of-a kind snow wall enclosed picnic completes the Slim Aarons type picturesque moment.
That night, a chef's showcase dinner tops off an amazing day. Guest chefs this year include Marc Forgione, Enzo Fargione, Martin Rios, and Giuseppe Tentori.
The most anticipated event of the festival marks the end of the four days of food and wine. The Grand Tasting Dinner & Dance, held at Vail Marriot Mountain Resort & Spa, overlooks the Vail Valley and breathtaking Rocky Mountains.
Epicureans will indulge in creative cuisine by renowned chefs and wine poured from the finest wineries in the world.
A variety of seminars are available for guests of Taste of Vail, including intimate cooking classes with renowned chefs, expert wine tastings and cigar tastings. Please visit
www.tasteofvail.com
for updates.
Forgione began his culinary career at 16 in his father's kitchen at the great American restaurant An American Place (Forgione's father is culinary legend Larry Forgione, who revolutionized American-style cooking in the 70's and 80's).

Forgione went on to work with great chefs on the east and west coasts as well as France. Best known for his culinary landmarks as sous chef and chef de cuisine respectively at BLT Steak and BLT Prime, Forgione was later named corporate chef for the BLT Restaurant Group nationwide, which includes BLT Fish and BLT Market.

Most recently, Forgione opened his first restaurant in New York City, Marc Forgione, where he shows off his laid back yet high-style approach to New American cuisine.

Fargione is best known for making his mark on the Washington D.C. dining scene through a variety of restaurants including Galileo, Donna Adele, Il Radicchio, Barolo and most recently Teatro Goldoni.


Born and raised in Torino, Italy, Fargione was schooled at The Culinary Institute of Torino. His specialty fares include northern Italian influences and promise to be a true culinary experience.

Taste of Vail also welcomes Rios from Geronimo Restaurant in Santa Fe, N.M., where he is the new executive chef. Best known for southwestern dishes with Asian overtones, Rios has created a variety of signature dishes using special sauces and emphasizing the local and seasonal ingredients of New Mexico.

The fourth guest chef is Tentori of Boka in Chicago. A Milan, Italy, native, Tentori graduated from Antica Osteria la Rampina in Milan before jumping a plane to the United States to work in Gabriel Viti's restaurant in Illinois at the age of 19.

He went on to work as sous chef at the Metropolitan in Salt Lake City, Utah and later returned to Chicago to work at Charlie Trotter's restaurant, the last two years as Chef de Cuisine.

His most recent venture is executive chef of Boka, where he adds his own unique style to the progressive American cuisine with seasonal ingredients and innovative pairings.

A full schedule of events and seminars will be announced soon. For more information on the events for the 19th Annual Taste of Vail and the guest chefs and to see images from past Taste of Vail festivals, visit the website at www.TasteofVail.com.


Comment on "Taste of Vail presents all-star lineup of nation's top chefs; offers stellar seminars, events" using the form below