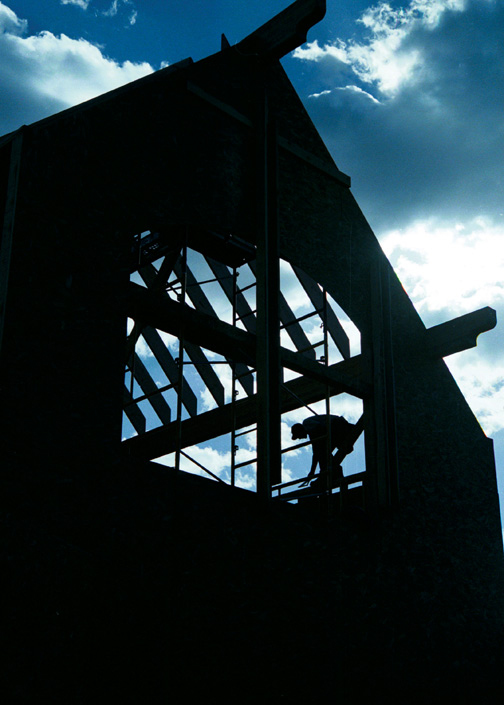 Old building habits die hard, says Eagle County planner Adam Palmer, who orchestrated the creation of a new set of environmentally-friendly Eagle County building codes.
By Dan Davis
trekkerphoto.com
Fade to green: New building codes usher in the Valley's next architectural trend
By Tom Boyd
December 12, 2007 — Perhaps no one is more familiar with local architecture than native architect Karl Krueger. Born in 1967 to one of Vail's first families, Krueger has watched the Valley change in ways no one could have dreamed of when he was a boy. As an architect, he now influences the Valley's look and feel through the designs he conjures from his local home/office.

"In the '60s Vail distinguished itself by applying tested European models to building in the Colorado mountains. It was about looks but also, fundamentally, about studying an architectural precedent that responded to similar climate and space," he said.

In the '90s, Krueger said, more powerful machinery and new technologies gave builders to power to largely ignore environmental conditions. Architects began focusing on creating a faux European atmosphere, but departed from many of the age-old principles of building in the mountains.

Now Krueger is among those who believe the Vail Valley might be headed into a new era of design and construction. New changes are afoot that would mark a milestone in the Valley's architectural progression – but they may not be easy to see in the outward appearance of a home.

In fact, the Valley's next big trends probably won't necessitate a change in the look or style of a home at all: they would happen in those hard-to-see places – between the walls and under the floors, in the boiler rooms and foundations of the Valley's next generation of homes.

According to the U.S. Department of Energy, commercial and residential buildings use 65.2 percent of total U.S. electricity and more than 36 percent of total U.S. primary energy. Other figures indicate that nearly 30 percent of the nation's greenhouse gasses are emitted by buildings.

In an effort to curb the energy use of a home, a new set of building was approved by Eagle County commissioners within the last year. The codes, borrowed from a similar code applied in Aspen and Pitkin County, are meant to make the Valley's homes more energy efficient, less wasteful, and more environmentally friendly.

The new codes, which were approved in January of 2007, could change the way homes are built in Eagle County. Krueger believes rising energy prices are also encouraging a new wave of building practices.

"I think it's time," Krueger said. "Until now the buying public hasn't chosen one property over another based on efficiency, but that's changing. A code will help people verify that choice."

Rewarding conservation

The codes operate on a point system: homes smaller than 5,000 square feet must score at least 50 out of a possible 418 total points. Homes over 5,000 square feet must score at least 100 out of a possible 418 total points.

"I like that carrot-stick approach," said County Commissioner Peter Runyon. "Does it make sense? I believe so. We're living here in the mountains and in the natural environment. If we can't be stewards of that, who can be?"

The "carrot" at the end of the stick, for homes under 5,000 square feet, is a 25 percent rebate off building permit fees for homebuilders who attain 100 points or more.

For those who are building homes more than 5,000 square feet, no additional incentives are available. Builders must meet the 100-point minimum or pay a Renewable Energy Mitigation Fee, equivalent to $1 for every square foot of the home.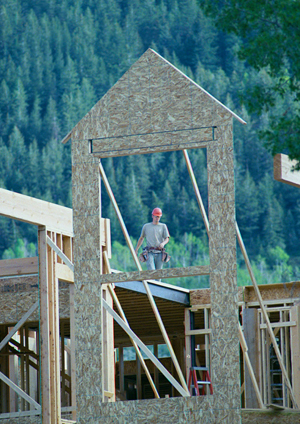 Going green isn't just for designers and builders. Interior designers have many new, environmentally friendly, options, says designer Jan Chenault.


Adam Palmer, the Eagle County planner who devised the codes, said the incentives for large home owners come over the course of a few years, as investments in energy-efficient technologies begin to make a return. Better insulation, better windows, programmable thermostats and the use of renewable materials can all pay off in the long run, Palmer said, because the costs of operating an energy-efficient home are lower than those of an inefficient home.

The new codes put the onus on large homeowners to go above and beyond the call of duty. Larger homes are a larger stress on the infrastructure, and therefore have a stronger obligation to minimize their impact on local utilities.

Palmer seems to have support from the Valley's building community. Before the plan went into action, he presented it to a group of local architects, engineers, contractors and homeowners at the Slifer Designs building in Edwards.

"(Green building) can be very technical, very complex," Palmer told the gathered audience. "It's site-specific, and even if a homeowner goes in knowing what they're talking about, they often get talked out of it while they're building.

"Contractors are comfortable sticking to what they're used to – they don't know a new product's reliability, the liability, or the profits," he said. "That's why we need a code."

Similar building codes are springing up all over the country, particularly in California.
Aaron Revere, Director of Environmental Initiatives with the Beaver-Creek based East West Partners, is leading a notable surge in energy-efficient building in the Lake Tahoe area. East West's Northstar Village in Tahoe is set to be the first neighborhood in the country to become entirely LEED certified (Leadership in Energy and Environmental Design).

LEED certification is similar to, but much more stringent than, Eagle County's proposed building codes.

"It aligns with our principles (to become LEED certified)," Revere said. "Quite honestly we think that's the way the entire real estate industry's going, not just in Tahoe but everywhere. We feel you need to be ahead of the curve and not behind the curve."

Vail Resorts is also looking for LEED certification of their proposed project in Vail, called Ever Vail. As currently planned, Ever Vail will be the largest LEED-certified project for resort use in North America.

Green building has also caught on when it comes to interior design. In fact, says Jan Chenault, a high-end designer operating out of Cordillera in the Vail Valley, many of the interior design options now available are very environmentally friendly.

Much has changed, she said, in her 20-plus years as a designer.

"I think everyone is up for it, but for the most part people don't want to sacrifice quality," she said. "But they don't have to. What people don't realize is that you're not sacrificing and you're not always paying more at the outset."

Chenault said her clients often choose environmentally-friendly products without even knowing it – simply because they like the way they look.

"These kinds of products simply weren't available in the '80s," she said.

As an example, Chenault points to cork flooring, a durable material which looks strikingly like marble. Cork trees re-grow very quickly, and, like bamboo, are a good choice for those who are looking for interior design products which don't strain the environment.

Here in Eagle County the trend is just catching on.




Comment on "Fade to green: New building codes usher in the Valley's next architectural trend" using the form below