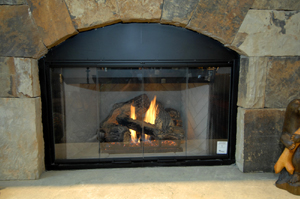 A visit to the Valley isn't the same without the warmth of a crackling fire.

Fireplace advice and trends
When it comes to homes, the hearth is where the heart is
By realvail.com
March 28, 2007 — From Prometheus to Goethe and all the way to Bruce Springsteen and Mel Torme, no single word has proven been more useful to poets than that hottest of earthly elements: fire. The mythological Greek God Prometheus suffered a fate worse than death to deliver the secret of fire to mankind. For Goethe, it was the "fiery chariot borne on nimble wings" which gained him literary immortality. The man overtaken by his lust is described as, "on fire," in Springsteen's legendary 1980s rock anthem. As for Tormé, well, it's simply impossible to imagine "A Christmas Song" without those lovely chestnuts roasting, "on an open fire."

Not all among us are poets, but on snowy evenings in the Vail Valley, a glowing fire can make us feel as if we are in the presence of one. Its dancing flames can bring a brand of warmth to a home that no heartless furnace could ever provide. It's hard to imagine a winter home, here in the Rockies, which lacks a hearth and fireplace.

"Here in the mountains, when the snow is blowing outside, our fireplaces bring the entire house to life," said Ray Verlinde, who had two fireplaces built into his recently completed home in Mountain Star. "It's just part of living here in the winter."

As a homeowner, Verlinde learned early on that the process of building a house starts with the fireplace. Whether gas or wood-burning, indoor or outdoor, the special building codes surrounding fireplace construction oblige a homebuilder know, in advance, how many fireplaces a home will have, of what kind, and where they will go. In many homes, a fireplace and chimney are built first, and the rest of the home is built around it.

Technology has allowed more flexibility and choice, however. As new homes are built in the valley, specialist Cory Dennissen has seen gas fireplaces heat up the industry.

"Clean-faced gas fireplaces are definitely the trend," said Dennissen, of Minturn-based Western Fireplace Supply. "These new fireplaces give a cleaner look, and more flexibility as far as the veneer – that black metal that designers look at and say, 'Do we really have to have that showing?'"

Gas fireplaces have gained popularity in recent decades mainly because county and municipal regulations have limited the construction of wood-burning stoves in the Valley. The regulations change from neighborhood to neighborhood, but in most cases a wood-burning stove is still a possibility, so long as the homeowner is willing to pay a fee.

In Verlinde's home, for example, the main greatroom fireplace can be converted into a woodstove. The bedroom stove, because of regulations, is a closed-face gas fireplace which is not convertible.

Verlinde has chosen gas over wood because it's less work, less mess, and less fuss.

"If we were just coming up here on weekends, or on holidays, I think we'd prefer to have wood-burning," Verlinde said. "But since we're here full time it's just easier – we don't have to buy or cut wood, we don't have to clean up ashes, and we can start our fire with the push of a button."

A gas fireplace will put out a constant amount of heat (peaking out around 35,000 Btu − British thermal units). A wood-burning fireplace, on the other hand, can put out much more than that, depending on its size and construction. It's important to remember that a wood-burner will put out a lot more while it's blazing than when it's simply simmering.

Loy and Ruth Van Vleet, of Lake Creek in Edwards, have always preferred wood-burning stoves to gas fireplaces or open fireplaces. Built long before county regulations limited wood-burning stoves, the Van Vleet household has two wood-burning stoves and a pellet stove, which they use to heat their log home in winter.

The Van Vleets recently replaced an older, larger woodburning stove with a more efficient, smaller stove. The new stove is a soapstone stove, which utilizes new technology to allow a stove to radiate heat much longer than a metal stove.

"Just before we go to bed we put in a couple of (oak) logs, and we get up early in the morning and it's still warm to the touch," Loy Van Vleet said.

The Van Vleets have a metal stove in their basement, which produces prodigious amounts of heat (over 50,000 Btu) but for a shorter period of time. They also have a Harmon brand pellet stove, which burns small wood pellets and acts as a kind of wood-burning furnace.

"With a Pellet stove you can fill it with pellets and leave it," Van Vleet said. "But there isn't always a supply of pellets at Home Depot or Wal-Mart. They'll have pellets early in the season and then they run out in January and February. The other thing is that the price varies considerably, so that should be kept in mind."

The ease of a pellet stove (when pellets are available) and the warmth of wood-burning stoves have the Van Vleet's completely satisfied with their situation. Yet for others there is no substitute for the poetic, classic look of an open wood blaze.

That's why, said Dennissen, he is seeing a much larger percentage of homes which are building outdoor fire pits. These can take many forms in wood or gas, as they are not nearly as regulated as indoor fireplaces. A simple stone pit can suffice, or a more elaborate fireplace seating area can be constructed. Most of these patio fire pits do not require a fireplace specialist, and are instead constructed by knowledgeable stonemasons or contractors.

"Outdoor fire-pits are the biggest new trend," Dennissen said. "But I'm always straightforward with people when they are doing an outdoor pit, I recommend they burn wood because the industry hasn't come around to give us a good outdoor gas product yet."

As for the open-faced, indoor fireplace, it gives off considerable heat but can allow heat to escape up the chimney as the fire dwindles. Tempered glass doors can limit this effect, but open-faced fireplaces are still the most difficult to operate and maintain.

Still, open fires are the most pleasing from a aesthetic point of view, even to the point of emanating the comforting aromas of burning wood. If chestnuts are to be roasted, to be sure, they are to be roasted over this type of fire. With just a bit of effort, and perhaps a bit more cost, these fires can bring the age-old enjoyment of a comfortable fire to its zenith.

Of course, if there's no other option on a winter's eve, one could always find fiery inspiration from the "Yule Log" DVD, available online at www.videofireplaces.com , which fills the television with yuletide pleasure, and even comes with a soundtrack of crackling fire. It may not be the real thing, but even Tormé would have to agree, it's surprisingly poetic.


Comment on "Fireplace advice and trends" using the form below