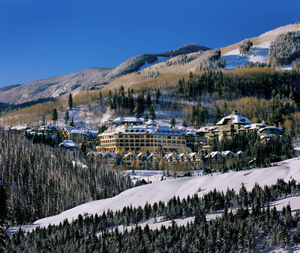 Places like Beaver Creek are increasingly home to semi-retirees and lone eagles continuing to work out of their technologically sophisticated resort retreats.
Courtesy of Vail Resorts
Multi-home trend supplanting second home ownership
More people are using mountain homes to work, play year-round
By David O. Williams
January 9, 2008 — For Brian and Wendi Kushner of Austin, Texas, the search for the perfect mountain retreat capable of accommodating both work and play started with the rapidly growing trend of vacation club ownership.

The Kushners bought a single share of a 3-bedroom, 3.5-bath unit at the Ritz-Carlton Club when it first opened in Bachelor Gulch near Beaver Creek several years ago. They then bought a share a year later to afford them more time in the mountains, especially during the hot summer months in Texas.

Their Ritz membership was a less expensive way of dipping a toe into the market and seeing if the Vail Valley was a place they wanted to put down roots long-term. "But we found we wanted to be there over the Christmas and New Year's holidays, wanted the flexibility to fly in when there was fresh powder and spend more time in the Vail Valley over summer," says Brian Kushner, "so we bought a condo up the hill from the Ritz with about 200 square feet more space, much of which I have dedicated to my office and supporting infrastructure."

The Kushners are part of a growing trend away from vacation or second home ownership and toward multi-purpose primary homes – or at least more heavily utilized second or third homes in resort areas.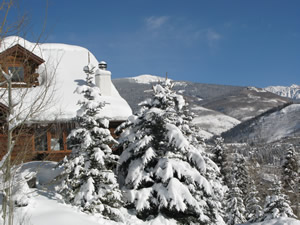 A home like this one in Vail provides great access to the slopes but also a comfortable work and play environment for families spending more and more time in their mountain homes.
By David O. Williams


A managing partner in CXO, LLC, a company that, among other things, provides interim and turnaround management services to private equity and hedge fund portfolio companies, Brian Kushner travels a great deal and needs good air access but also relies heavily on telecommunications to work closely with companies around the country.

"With my mobile phone, Blackberry, laptop and access to FedEx Kinko's, I can do business just about anywhere," Kushner says. "I spend a lot of time on conference calls and responding to emails, and I have found the technology facilitates me being in touch on a beach in Australia or on several of the chairlifts in the Vail Valley."

The Kushners searched the Mountain West for the perfect locale for their multi-use home, even spending some time in the Deer Valley-Park City area of Utah, but their experience with the Ritz-Carlton convinced them Vail – with its regional airport just 30 miles away between Eagle and Gypsum – was the ideal spot.

Their Ritz membership effectively limited them to a maximum of about six weeks a year in the Vail Valley, but in 2007, with their new condo, they had already spent nearly 10 weeks in the mountains by early September and they expected to increase that to more than 12 weeks in 2008. Given Brian's frenetic weekly travel schedule, air access is at a premium.

"Transportation in and out of the Vail Valley is a critical part of the story and helps make it work for me," Kushner says. "Close proximity to Denver International Airport (DIA) and increased flights in and out of Eagle County Regional Airport allow me to spend more time in the Vail Valley. I would welcome more nonstop flights in the summer into Eagle County above and beyond Dallas-Fort Worth and DIA."

Transportation and technology are dramatically transforming resort real estate markets, says Jim Flaum of Slifer Smith and Frampton Real Estate in the Vail Valley.

"We've seen a big change in the market in the last 10 years, and even more so in the last five years, with captains of industry who can keep operating their companies or doing their job from anywhere in the world because of technology, and therefore they've been willing to spend more time here and invest in a bigger home," Flaum says.

"They have now branched out and bought bigger condos or homes up to seven or eight bedrooms and a lot of times with dual, his-and-her offices. They're spending more time during ski seasons and a big change is a lot more time in the summer than the winter. Ski-in/ski-out is not as important anymore."

And it's a trend that's occurring throughout the resort areas of the Rocky Mountain West – not just the high-end ski areas of Colorado.

Mike Lee and his wife Kathy disassembled a circa-1650 wooden barn from the English countryside and had it shipped to the United States in the 1970s with the distant notion of one day reassembling it in a mountainous resort area as a gathering place for their large, extended family.

After looking in parts of Oregon and the Mammoth and Tahoe lake regions of California, the Lees – living in the Bay Area at the time – settled on Utah, where they'd both graduated from the University of Utah years earlier. Park City specifically – a place with unlimited recreational opportunities, proximity to their church, great outdoor beauty and fast access to a major international airport.

The impending 2002 Winter Olympics forced the Lees to build a bit ahead of their original timeframe, erecting the oldest structure in Park City in 1996-97 in order to get out ahead of the pre-Olympic land rush. But when they were done, their 17th-century home between the ski resorts of Park City and Deer Valley predated by at least two centuries anything still standing from Park City's mining heyday of the late 1800's.

Their new-old second home immediately became exactly what they had hoped for: a place of permanence and familial refuge from their city life in San Francisco and the ideal point of convergence for the Lees, their five children, friends and other family.

"After it was built we would come up on vacations mostly and then it kind of evolved," says Mike Lee, who still works for an investment banking firm in San Francisco. "Over the last three years I was spending a lot more time up here, and we commuted on Southwest Airlines basically. We would spend extended time, not just holidays, and about a year ago we kind of reversed that, where I'm up here most of the time and go down to San Francisco only occasionally. Communications have allowed that to happen."

The Lees no longer even own a place in San Francisco, and through the wonders of the web and wireless technology, Mike is able to conduct business as usual from his Park City home. Besides the technological revolution of the last few years, Lee says the dual factors of the changing face of retirement (with people working much later in life) and the relative ease of transportation after the initial post 9-11 security ramp-up eased off have combined to turn places like Park City and Vail, Colo., into virtual suburbs of major metropolitan commercial hubs around the nation.

"One of the things I love is you're skiing and going up on the chairlift and you get a call and it's just business as usual," Lee says. "That's the advantage of having a home office in Park City: the phone rings in San Francisco and you don't miss a beat."

Lee, 64, says companies are increasingly recognizing the value – from both an expertise and an experience standpoint – of employees in their late 60s or even early 70s. The traditional 65 retirement age is a thing of the past.

"It's a whole different concept, and I have no thought of retiring at 65," Lee says. "I don't know what I would do, and I don't' know what my wife would do with me. Retirement has changed great deal in recent years because there are a lot of financial wrecks after 2000 and 2001 and a lot of people economically have extended retirement. And it's really a nebulous term, because people are as active as they were before retirement."

But part of remaining so active means finding a multi-use home in area rich with cultural and recreational opportunities and the necessary transportation and communications infrastructure for conducting business in such places.

A version of this story originally appeared in East West Partners' new Elevate magazine in the fall of 2007.


1 Comment on "Multi-home trend supplanting second home ownership"