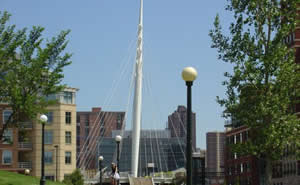 Avon-based East West Partners' Riverfront Park has become an urban oasis for mountain dwellers in downtown Denver.
Special to realvail.com
The reverse commute: second homes in the city
Mountain dwellers increasingly eyeing (and buying) city retreats
By David O. Williams
January 26, 2008 — It's a bit of an odd analogy, but one you're entitled to make if you grew up in and around the renowned ski resorts of the Vail Valley.

"We're ski-in, ski-out Denver-style," says Chris Frampton, managing partner of downtown Denver's Riverfront Park, a residential neighborhood being developed by Avon-based East West Partners.

Like resort properties at the base of a ski area – sometimes referred to as "beachfront" in the parlance of mountain-resort real estate – Riverfront Park trades heavily on its cache as an urban enclave mere steps from all the action.

"That's absolutely what we offer and what we emphasize," adds Frampton, a Riverfront resident who grew up in the Vail Valley as his father, Harry, helped shape the posh ski resorts of Beaver Creek and Vail. "The sheer amount of activity and the fun new atmosphere in downtown Denver."

Which may be why so many full-time mountain dwellers, including quite a few from the Vail Valley, have joined the trend of buying second homes in the city – the reverse commute, if you will, for mountain resort residents in need of a cultural rather than recreational fix.

Don Cohen and his wife Terry have been living fulltime in the Vail Valley – the booming mountain town of Edwards, to be specific – for 14 years, but they used to call the suburban hinterlands of Aurora, just east of Denver, home.

At that time Cohen, who owned a corporate media production company and was later CEO of an Internet services firm, worked in one of the shining office towers in downtown Denver – the AT&T Building – and would gaze out wistfully at the great expanse of dirt out past Coors Field toward the Central Platte Valley.

Cohen recognized the property's immense potential and seized on the opportunity to buy into Riverfront' s first building, particularly when he heard East West was the developer. He, too, makes the ski-town analogy.

"It's like buying at the base of Golden Peak when Vail first started," says Cohen, who at the time owned a weekend place in East Vail. Now he lives near Vail and does the reverse commute. "To me, living in Riverfront Park is like living at the base of the ski mountain because you can park you car and walk or bike everywhere. Denver didn't used to have urban action and now it does."

For the Cohens, that action centers mostly around the stage, where they've been season pass holders at the Denver Center Theater for the better part of two decades. But they also dabble in all the concerts, shopping, dining and professional sports downtown has to offer.

They bought their 1,000-square-foot, one-bedroom unit – the seventh closing in the first building – five years ago as a way to reverse their former pattern of living in the city and fighting all the traffic headed up to the mountains on weekends. It's been such a great experience they bought two more rental units as investment properties.

Downtown living, Cohen surmises, even for full-time residents of the Front Range, will become increasingly attractive. However, the contrast and cultural diversity of life in the city will always be a particularly powerful draw for fulltime mountain dwellers looking for a city retreat.

"I think more and more people are going to find this paired property thing to be a really good idea," says Cohen. "Despite increases of traffic on Interstate 70, it will still remain a very appealing model of living on the Western Slope and being able to have your urban fix. When you are in the mountains and you go to the high rise and the high density and the activity in the urban core, that's very different and that will always remain appealing."

Bill Willins, who owns a Vail Valley video production company and lives most of the year on remote Bellyache Ridge south of Wolcott, enjoys the cultural aspects of owning a second home in Denver, but he and his wife, Ulrica, bought just outside of the downtown core for a little more relaxed urban experience.

They have a two-bedroom apartment near Washington Park where they keep bikes and take advantage of Denver's extensive park and trail system during the more temperate spring, winter and fall months. In the summer they retreat to the cooler climes of their mountain home.

Bicycling Magazine rates Denver second for cycling among U.S. cities with populations between 500,000 and 1 million, and its relatively moderate and sunny climate makes it an ideal escape when the snow is piling up at higher elevations.

"The more I know about Denver the more I enjoy it," says Willins. "There's an incredible network of bike trails there for training during the off-season, and it's definitely a flat city with a mild climate." He adds there's also a certain cache to escaping to the city while everyone else is fighting their way up to the mountains for the weekend.

"You're always going against the flow," he says, "and if you can do that in life, you've got it figured out."

This story first appeared in East West Partners' Elevate Magazine.



Comment on "The reverse commute: second homes in the city" using the form below