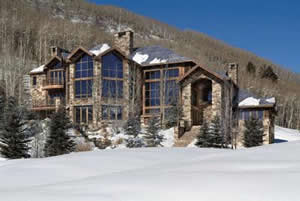 The 15,900 square-foot home under construction at 463 Borders Road in Beaver Creek is currently the highest-priced listing in Eagle County at $24.9 million
Courtesy of Slifer Smith and Frampton Real Estate
High-end mountain real estate still selling at record clip
Vail area establishes new mark with nearly $3 billion in sales in 2007
By David O. Williams
February 13, 2008 — The rest of the nation's real estate market may be singing the sub-prime mortgage blues, but in Colorado's high-end resorts markets, refrains of "Happy Days Are Here Again" still echo off the surrounding peaks.

In Eagle County, home to Vail and Beaver Creek ski areas, 2007 saw record sales volume, with overall residential and commercial sales totaling $2.96 billion and surpassing the previous record of $2.8 billion (set in 2005) by $160 million. The 2007 record represents a 7 percent increase over 2006.

"The high-end niche of our market continues to lead the way, showing strong gains across the board," said Led Gardner of Vail-based Led Gardner & Associates, citing a 41-percent increase in the sale of properties priced between $3 million and $5 million over the past two years. "There's still a large pool of money circling the globe that pursues luxury trophy homes."


Gardner points to the new Arrabelle at Vail Square condo and hotel project at the base of the gondola in Vail, where yet-to-be completed units first sold for $1,100 a square foot and have since flipped for between $1,500 and $2,000 a square foot.

The number of transactions in the lower end of the market – which in the Vail area means sub-$1 million – was off in 2007, with the overall number of deals declining 14 percent, but the amount of new high-end inventory as part of Vail's ongoing redevelopment surge continues to drive the market.

"In the lower price points we see less people buying than a year or two ago in a frenzy market, but we've had some great activity in the higher end," said Slifer Smith and Frampton Real Estate's Jim Flaum, whose company accounted for $1.48 billion of the sales in Eagle County in 2007 – a new record for the firm.

"There's a certain amount of people who want to wait and see what happens, make sure the stock market straightens out, make sure everything's going to be all right and that, depending on who's elected president, the country doesn't come to an end," Flaum said. "That's certainly more of a factor compared to three year ago."

But with 70 million baby boomers coming into their prime second home-buying year and many of them still wealthy enough to be unfazed by the lending crisis, experts say the limited inventory of so-called "beach-front" properties with ski-in, ski-out access is still being hotly pursued in markets such as Vail, Aspen and Telluride.

"People who are buying in Vail for the most part are not really impacted by (the mortgage crisis); they're very wealthy and they're very insulated," said Gerry Hartung, 51, an Internet and print publisher from Silver Spring, Md., who owns a condo in the Vail Cascade Resort & Spa and has purchased land in nearby Cordillera for a future home.

"People are (buying resort property) for lifestyle reasons," Hartung adds. "When we bought our place in the Cascade it was not because it was a great investment and it was going to go up in value. It was because we wanted to be there and we wanted someplace when we came out to ski, and as it turns out it has been one of the best investments I've ever made."

In Pitkin County, home to Aspen and Snowmass, 2007 was off about 5 percent from a record 2006. Total commercial and residential sales came in at $2.52 billion, down from $2.64 billion in 2006, but brokers and developers say the ultra high end of the market continues to sizzle.

"There is resilience in that end of the market in Snowmass and Aspen," said Scott Calliham, director of sales for Related WestPac Real Estate, which is developing the new $1 billion base village at Snowmass. Since December the company has sold 65 percent of the Little Nell Residences condo project in Snowmass, with prices starting at $3.1 million.

"The market is still strong in all segments as long as it's quality property," said BJ Adams of BJ Adams and Company Real Estate in Aspen and Snowmass. "There's no question the market has slowed down some, but people who have the wherewithal, they want what they want, and they want quality and not just any run of the mill property."

Adams says foreign investors from Europe, Russia and Latin America, taking advantage of the weakness of the dollar, continue to pursue the Aspen area's relatively limited inventory. "There is a certain cache to owning in a place like Aspen," Adams said.


1 Comment on "High-end mountain real estate still selling at record clip"