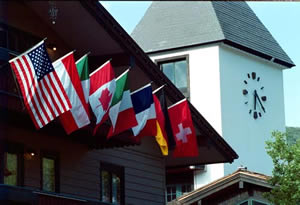 The clocktower will remain the same - but just about everything else in Vail will have a new look by this summer.

Vail enters a new era
New Dawn's beginnings are now on display
By Tom Boyd
April 7, 2007 — From atop Golden Peak, Buddy Lazier and his 8-year-old son have a view like few others: they can see their home town, their house, and their family's hotel, the Tivoli.

On a recent ski day together, the pair stopped to take a birds-eye view of Vail as it undergoes a billion-dollar renewal. New projects have already transformed the Village into something very different from the place Lazier knew growing up here in the '60s and '70s. In those days, framed by a mix of dark-brown lodges and squarish, 70s-style architecture, Lazier cradled dreams of becoming an Olympic ski racer. Instead he went on to become an Indy Car racer, winning the 1996 Indianapolis 500 and the 2000 Indy Car Championship.

Lazier likes to win – and he thinks Vail's recent renewal is a winning prospect which keeps it on track to maintain its near-perennial status as the No. 1 ski resort in North America (according to readers of Ski Magazine).
"If you're going to have the number one mountain," Lazier said, "You're going to want to have the number one town to go with it. It's like an Indy car: you've got to have balance or you're into the wall."

Despite the renewal, some feel Vail is headed toward "the wall." Early pioneer and former town councilman Merv Lapin is among those who think Vail is losing its old appeal.

What's goin' on?

A brief look at Vail and Lionshead's current and planned upgrades
* Termed Vail's "Billion Dollar Renewal," the renovations of hotels, other properties, and streetscapes in Vail Village and Lionshead have already involved more than $200 million in investments


* More than 100 new lodge units and 9,250 square feet of retail space are open this season


* Another 130 lodge units and 40,000 square feet of new retail space are scheduled to be completed in the next two years


* Projects to be completed by Summer 2007


• The Tivoli Lodge ($30 million) – Completed


• The Sonnenalp Resort at Vail ($4 million) – Completed


• Vail Mountain Lodge & Spa ($25 million) – Completed


• The Antlers at Vail ($24 million) – Completed


• Vail Cascade Resort & Spa ($20 million) – Completed


• Vail Marriott Mountain Resort & Spa ($32 million) – Completed


• Town of Vail Streetscape Project ($10 million) – Phase I Completed


• One Willow Bridge Road ($100 million) – March 2007

• The Vail Plaza Club Hotel Resort ($70 million) – April 2007

* On the Horizon

• The Arrabelle at Vail Square ($250 million) – November 2007

• Vail's Front Door ($115 million) – November 2007

• Four Seasons Resort Vail ($260 million) – Fall 2008

• Timberline Lodge & Condominiums ($25 million) – October 2008

• Solaris ($170 million) – Summer 2009
• Ritz-Carlton Residence, Vail (TBD) – January 2010

• Manor Vail Resort ($65 million) − TBD



"I think the (European flavor) of Vail is gone," said Lapin, who first came to town in 1966. "With 10-story buildings and these massive projects, Vail will have an appeal to people who already live in high-density situations. It's not what I wanted for Vail. There's no longer anything unique about Vail. It's becoming just another city."

Whether Lapin wants it or not, the project known as "Vail's New Dawn" is already well under way – the Lazier's new Tivoli, for example, has been open for business since this past summer.
Lazier and his family have put everything they've got - past, present, and future - into Vail, and they're counting on it to be successful.

"We wouldn't dream of leaving here because life equals Vail," he said. "(The re-design) is turning out so much better than any of us could've hoped."

The redesign is certainly the biggest transformation of Vail since the early '60s, when no one knew the risk or potential of the town. In those days Vail put itself on the world ski map by offering a European-style ski experience. Its competitors, such as Aspen and Crested Butte, were all of the mining-town-cum-ski-town variety.

Things were different for people like Bob Lazier, Buddy's father, who came to Vail in the early 1960s. Lazier borrowed European designs for his first hotel, named it after the town of Tivoli in Italy, and presto: one of Vail's most noted lodges was born.

Lazier draws parallels between those early days and current times, yet now he feels the town has more direction, more purpose than before. "The concept in this town is that we are guardians of this mountain," Bob Lazier, Buddy's father, said. "This mountain is like a national park, it's owned by the Forest Service and by the people of the United States. We love this town, but it's more than a love. It's a passion."

This passion doesn't require a European stamp of approval. Vail has stopped looking to Europe for guidance, and is forging into new territory. There are still whispers of old Europe in the new architecture and layout of the town, but there are significant departures from the European way, too.

In Europe, for example, there are age-old paving stones. In Vail there are heated paving stones. Where Europe is notorious for its combative lift-lines, a Vail lift-line involves alternating riders, organized mazes, and cute little tissue dispensers. Where a sign in Europe is can be hard to find and harder to read, Vail posts signs at every turn. Where self-reliance is the one-and-only ski philosophy in Europe, Vail has armies of red- or yellow-jacketed employees strategically placed to help, guide, or assist Vail's guests – in any language.

Whatever level of customer service Vail has already achieved, it still wants more. There is a kind of customer-service Cold War ongoing in the ski industry, and Vail Resorts' Regan-esque approach to the matter is to initiate an arms race. The VR contributions to the renewal, for example, include Vail's Front Door Project and Lionshead's Arrabelle, both of which are centered around an unabashed effort to raise the skier-services bar to astronomical heights.

"I think these two base arrival points will be the new standard for the global ski industry for convenience, skier-service and the guest," said Bill Jensen, Vail Mountain's Chief Operating Officer.

Jensen, like most officials involved in the new construction, is keen to show that locals and employees – not just high-dollar guests − will also benefit from Vail's new mega-plexes. Public squares, ice-skating rinks, and community meeting places are all factored into the Front Door and Arrabelle projects – along with fairly posh employee facilities.

"We'll have purpose-built, back-of-the-house employee locker rooms, and we're the only ones I'm aware of doing that," he said. "Usually (locker rooms) are a fourth or fifth use of existing conditions."

It's possible things are getting better, and they're definitely getting bigger, but they're not getting any cheaper: property costs in Vail have risen to as much as $2,800 per square foot.
Yet there is no stopping the boom, which is only halfway through its bang. Along with the opening of the Tivoli, Vail Village has seen the completion of several other major projects. Key among these is Phase I of the Streetscape Project ($10 million), a town-government-led public works project designed to keep the streets, waterlines, and public artwork up to snuff with the new buildings.

"The intention with (the Town of Vail Streetscape) has been to create that Old World European ambiance," said Town of Vail spokesperson Suzanne Silverthorne. "It really makes for a very complimentary kind of atmosphere."

Perhaps the most noticeable change will come this March, when the private One Willow Bridge Road project opens its doors. The $100 million project is located across from the current Crossroads building. Trimmed with copper and dotted with pseudo-medieval towers and parapets, One Willow cranks the posh-meter to a whole new level. The high-tech interiors are intended, said representatives, to out-wow the Four Seasons and Ritz-Carleton projects, both of which will be completed in coming years. It requires hundreds of thousands of dollars, minimum, to gain access to the upper floors, but the ground floor is geared to please the public − albeit a very wealthy public. A gourmet market, wine-bar, and other boutique shops are expected to open there later this year.

Across the street an even bigger project awaits – Solaris. The new $170 million complex will include an ice-skating rink, a bowling alley, and 73 condominiums priced from $2 million to $17 million. Investors are hoping the buildings, which will replace Crossroads by 2008, will become a town center. The size of the building was initially rejected by Vail Town Council, but the 10-story building was approved when a new council was elected.

Solaris created more of a hubbub than any other project, largely due to its large scale. Lapin and several old-guard Vailites lobbied hard against Solaris, yet seem to take a softer view on smaller projects such as the Tivoli.

This sits well with Buddy Lazier, who is hoping his view from atop Golden Peak continually improves. As guardian of what his father is passing onto him, Buddy said he feels an obligation to do what is best for the town. In doing so he is constantly aware of his son Flinn and daughter Jacqueline, member's of Vail's next generation, who will ultimately reap the benefits and/or feel the detriments of Vail's New Dawn.

It will be some time before results are in. As of right now, however, it merely takes a stroll through a brand-new downtown to see it is the Laziers - along with other investors, the new Town Council, and Vail Resorts – who are clearly winning the day.


3 Comments on "Vail enters a new era"