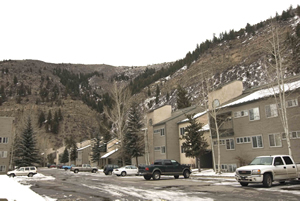 The River Run complex along the Eagle River in Dowd Junction was recently purchased by Vail Capital Partners.
Courtesy of Vail Capital Partners
Vail Capital Partners buys River Run complex
Company to explore redevelopment plans for rental property
By realvail.com
March 19, 2008 — The River Run condo complex on the north side of Interstate 70 just west of Dowd Junction was acquired by Avon-based Vail Capital Partners V, LLC, the company announced Tuesday.

River Run is a 117-unit residential complex on more than seven acres along the Eagle River. Vail Capital Partners purchased the property, built in 1983, from 117 River Group LP.

"River Run is a wonderful rental property located in a beautiful setting," said VCP Chairman Gary Miller, who lives with his family in Vail. "We have been working closely with the previous owner to ensure the ownership transition is as seamless as possible for our renters. We are currently planning a number of improvements to maintain the sense of community that River Run is known for."

VCP notified tenants that River Run will remain available for rental for at least the next 18-24 months and potentially longer. Improvements, which will begin this spring, include exterior and interior restoration, and resurfacing of the parking lot.

VCP will be exploring multiple redevelopment options over the next several months.

"This property is such a unique setting, with steep mountain slopes, a connection to the Eagle River and its proximity to neighboring municipalities," Miller said. "We have a lot of work ahead of us in determining what opportunities might exist with redevelopment of the site. Among many things, the project will include ownership opportunities for local professionals, as well as a green building component.

"We think it is so important to build housing for our doctors, nurses, firefighters and teachers," continued Miller. "We believe the heart of the community is defined by these professionals, and this property is located in the heart of the Vail Valley. It will be an exciting process."

Vail Capital Partners, Inc. is a private equity firm that invests in and manages high-end real estate development in world-class resort markets like Vail and throughout the Western region and the sunbelt areas. Its principals have experience in real estate management and development going back to 1978 where the company managed several apartment complexes in St. Louis and Kansas City. In 2001 VCP formed in the Vail Valley and has managed the development of high-end single family homes in Vail, Beaver Creek, Bachelor Gulch and Cordillera. In 2006, VCP set an all-time record of price per square foot for one of its premier mountain homes at The Summit at Cordillera.

VCP's property management division, GM Real Estate Management Services, will be responsible for the overall management of the River Run property.

8 Comments on "Vail Capital Partners buys River Run complex"