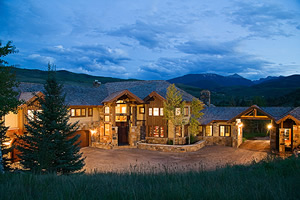 This 8-bedroom, 9-bath home on Lake Creek Road in Edwards is listed by Sonnenalp Real Estate for $16 million. High-end homes sales in Eagle County remained relatively strong the first two months of 2008.
Courtesy of Sonnenalp Real Estate
www.sonnenalprealestate.com
County's high-end home sales still strong, but overall market lagging
First two months of 2008 show slow leak in mountain real estate bubble
By David O. Williams
April 16, 2008 — The Vail Board of Realtors characterizes 2008 as being off to a "leisurely start."

Other observers say Eagle County's formerly white-hot real estate market has been deteriorating for nearly a year now – and that seemingly bubble-proof mountain home sales are finally feeling the impact of the national housing-market downturn.

It still depends who you're talking to – and what segment of the market they deal in – but the numbers don't lie. January saw the number of transactions dip to 104 in Eagle County, home to Vail and Beaver Creek ski areas. This is the lowest January figure in 12 years. February improved slightly to 131 transactions, but that's still the lowest number of deals since 115 in February of 2003.

"Everybody was really optimistic coming up on the end of '07, thinking maybe we were going to sneak through and not have the impacts here," said real estate broker and former Vail mayor Rob Ford. "Now here we are and everyone's saying, 'Oops, maybe we are going to be affected,' but no one seems to know how deep it's going to go."
Bucking the national trend, Eagle County saw record sales volume in 2007, with overall residential and commercial sales totaling $2.96 billion and surpassing the previous record of $2.8 billion (set in 2005). But so far in 2008, dollar volume is off 28 percent in January and 18 percent in February.

Despite the dip, high-end homes continue to move briskly. Fifteen homes priced in the $3 million or more category sold for a grand total of $83,100,500 in February alone.

"I would say our volume has been consistent with last year, which was a record year. All in all, we've been really busy," said Joni White Taylor of Sonnenalp Real Estate in Vail. "I see the mid-range -- $800,000 to $3 million, outside of Vail – has slowed down a bit. But the high end is doing very, very well." Homes near the slopes in Vail proper and Beaver Creek continue to sell at a premium.

Taylor said Sonnenalp was the listing brokerage for a home in the Bachelor Gulch area of Beaver Creek currently under contract for $12.6 million, and also recently sold another home in Beaver Creek for $10.9 million. But the priciest home in Eagle County – a Vail property listed by Sonnenalp for $21 million – has been taken off the market, not because of any perceived downturn, Taylor said, but because the owner had a change of heart.

That continued strength in high-end sales brought the average single-family home sales price in Eagle County to $1.6 million for the month of February.

"The number of transactions in Eagle County has been trending down for almost a year now, so as the number has trended down, the dollar amount has continued to go up," Ford said. "The strength of the upper end has been masking a deterioration of the market as a whole."

Bill Wilto of RE/MAX Vail Valley says the slowdown in Eagle County has led to less speculation and more people buying into the market as a lifestyle choice, intending to stay and ride out any market fluctuations.

"The high end has shown some strength, however, the number of transactions in the high end isn't enough for the real estate community as a whole to live on," Wilto said. "But the market is remarkably strong when you compare it to other parts of the county. We still have people who want to buy and are still able to get good mortgages."

In Pitkin County, home to Aspen, sales volume has been off considerably more than Eagle County to start 2008. January sales totaled $127,200,000, off nearly 50 percent from the $253,209,000 sold in January 2007. February sales totaled $131,485,000, compared to $192,612,000 in February 2007, a decrease of nearly 32 percent.

"There's no question the market has slowed down some, but people who have the wherewithal, they want what they want, and they want quality and not just any run-of-the-mill property," said B.J. Adams of B.J. Adams and Company Real Estate in Aspen and Snowmass. Adams said foreign buyers capitalizing on the weakness of the dollar continue to bolster Pitkin County sales.

Comment on "County's high-end home sales still strong, but overall market lagging" using the form below