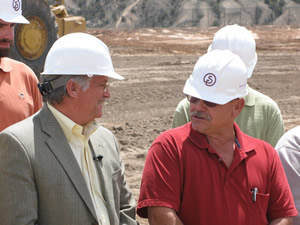 Eagle County Commissioner Peter Runyon, left, and Gypsum Mayor Steve Carver talk about the new 339-unit Stratton Flats public-private affordable housing partnership in Gypsum.
By David O. Williams
Eagle County steps in to hold down housing prices despite plummeting market nationwide
Officials laud Stratton Flats in Gypsum as the ideal public-private partnership
By David O. Williams
May 7, 2008 — While the rest of the nation watched home prices plunge precipitously in the first quarter of 2008, officials in Eagle County – where the median price for a single-family home was $650,410 in 2007 – are doing everything in their power to hold housing prices down in order to head off critical labor shortages.

On the same day that Fannie Mae, the nation's largest buyer of home loans, announced more than $2 billion in quarterly losses and predicted home prices would sink another 7 to 9 percent this year, Eagle County commissioners and officials from the town of Gypsum gathered Tuesday to break ground on a 339-unit affordable housing complex aimed at stemming the outflow of workers needed to run one of the world's top winter resort destinations.

"The county invested $4.5 million into the Stratton Flats project," said Eagle County Commissioner Sara Fisher, "and the goal behind that was to be able to place deed restrictions on two-thirds of the project, knowing that workforce housing is at such a crisis and that this project was in need of some financial infusion."

Gypsum is a working-class town perhaps best known for its American Gypsum drywall plant and mine, but it is increasingly a bedroom community for workers in the posh ski resorts of Vail and Beaver Creek, a half-hour drive east along Interstate 70.

The town of Gypsum chipped in another $2.6 million in waived tap fees and reduced infrastructure fees in order to deed-restrict 113 of the Stratton Flats units. Buyers must earn 85 percent of their income in Eagle County to qualify for the Gypsum units – a restriction that keeps real estate speculation and vacation-home buyers at bay. The county, an equity partner in the privately developed project, controls another 113 deed restrictions, capping the appreciation on the units to keep them affordable.

Gypsum Mayor Steve Carver said he's already been contacted by a Colorado State Patrol captain who works locally but lives in Glenwood Springs, 25 miles to the west, because of the steep cost of housing in Eagle County. Commissioner Peter Runyon said that 10 of the approximately 60 firefighters for the Eagle River Fire Protection District live on Colorado's Front Range near Denver, 150 miles to the east.

"What if we had a catastrophic wildfire? We want those people to be able to get here right away," Runyon said.

The builder, Meritage Development Group, will sell another 113 units on the open market. One-bedroom condos will start at $170,000, and four-bedroom single-family homes will be priced at around $350,000 – a bargain in the rarified air of Eagle County real estate, where the average sales price in the first quarter of the year was nearly $1.5 million. That figure is due mainly to 25 first-quarter sales of homes priced at more than $4 million – a sign the high end is still strong.

Some critics have charged the county shouldn't be in the affordable housing business, arguing market forces of supply and demand should dictate housing prices. But some business leaders applaud the project. Last winter, restaurants and stores had to cut back hours of operation, the ski areas could not stay open longer in the season and construction projects were delayed, all because of labor shortages.

"The county, they're under some level of strain to provide housing for entry-level folks, so they just jumped in [with funding]," said Stratton Flats project manager John Bender. "It's aggressive, and the county's taken a little flack for it perhaps, but they're also now coming up with a large sum of units that will now be in the workforce housing pool that wouldn't otherwise have been."

Despite deteriorating housing prices nationwide, Fisher is confident the units will sell and the county will recoup its investment plus 6 percent.

"There's no question about it in our county," she said. "When you talk to business people about the shortage of workforce this winter, the visa shortage is part of it, but for the local workforce it's a correlation with people not being able to work here and to have a mortgage payment where they can actually expect to have a life in addition to working full-time."

The average annual wage in Eagle County was $37,110 in 2006. Bender said his company isn't too concerned about the demand for the new units either.

"We are concerned with the availability of mortgages, and we are going after all of the various banks that we can find," Bender said. "We're still expecting a high level of folks that want to buy, but maybe less will qualify. I don't sense the same level of fear of ownership in this group that's going to be our customer than what's out in the world right now that's causing the real estate crunch. People want to live here and they need to have a place to live and it's hard to get one."

Other developers, including Vail Resorts, opposed new county housing guidelines passed last month that require at least 30 percent of any new development to be affordable to families earning 105 percent of the median income. For example, a three-bedroom home for a family of four would have to be priced at $303,000.

Opponents of the guidelines questioned the need for them when public-private partnerships such as Stratton Flats are possible, and they argued the new rules would put a damper on the county's development scene, especially with real estate around the U.S. in a down market nationally.

Fisher said the new rules are just one tool in the overall solution to the housing and labor crisis. The new guidelines give the county more leverage closer to the ski resorts where land prices are so high that the county investment of $4.5 million wouldn't go too far in securing affordable units, Fisher said, adding the onus then is on the developers who will make higher profits near the resorts.

"And also we need to balance out the second homes and the local mix, not just so we have housing for more of the blue-collar working population but our middle-class population," Fisher said.


Comment on "Eagle County steps in to hold down housing prices despite plummeting market nationwide" using the form below