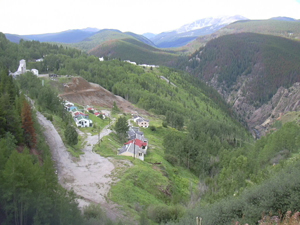 The ghost town of Gillman, abandoned since the early '80s, could come alive again if the Battle Mountain project is approved.
Photos of Gillman by Tom Boyd
Ginn company battles for private ski area, golf course, between Vail and Beaver Creek
Minturn votes on Battle Mountain project Tuesday
By Tom Boyd
May 19, 2008 — Editor's note: The Ginn Company's Battle Mountain project was approved by an 87 to 13 percent margin in a record special election turnout of 367 voters Tuesday. Minturn residents averaged 321 yes votes on all 11 questions needed to uphold the Town Council's February decision to annex the private ski and golf resort into the town. Opponents averaged 46 no votes on all 11 questions.

Tucked away in a narrow valley between Vail and Leadville, the small town of Minturn has long been home to people who like being off the beaten path, away from the hubbub, near to nature and yet not too far from Interstate 70, which buzzes past only a few miles away.

That's all changed in recent years, however, as Minturn finds itself in the center of the Vail Valley's largest land development since the creation of Beaver Creek in 1980 - a private ski and golf resort called Battle Mountain. An estimated 200 to 300 of Minturn's 720 registered voters will decide the project's fate in a referendum election Tuesday, May 20.

Officials for the faded former railroad town have been at the bargaining table with Florida developer Bobby Ginn for three and a half years, wrangling over the details of a posh, billion-dollar-plus development that would include a private ski area, two gondolas, 1,700 homes and two 18-hole golf courses on a 5,300-acre chunk of prime private real estate cobbled together from old mining claims.

The history of the Battle Mountain project
• 1992 - Vail Associates, as it was known at the time under the ownership of George Gillett, purchases a 50-percent development option on the Gilman tract between Minturn and Red Cliff southwest of Vail Mountain. The $4.5 million, in part, funds the acquisition efforts of Denver lawyers Michael Page and Jim Aronstein, who are steadily patching together a huge tract of old mining claims.

• 1994 - Vail Associates begins public Snowcat tours into the Blue Sky Basin expansion area (later Blue Sky Basin) in order to garner community support.

• Feb. 22, 1994 - Vail Associates files a formal proposal for an 885-acre, three-chairlift expansion into the Blue Sky Basin area south of the existing Back Bowls on the other side of Two Elk Creek.

• May 30, 1994 - A coalition of environmental groups announces it has enlisted legal help to formally oppose Vail's Blue Sky Basin expansion.

• August, 1995 - Vail Associates for the first time publicly acknowledges its financial interest in the Gilman tract in a series of articles published in local newspapers.

• May, 1998 - Turkey Creek and Vail appear close to an agreement on the future of the Gilman tract when Turkey Creek partner and Denver attorney Jim Aronstein proposed developing the area around Bolts Lake and conveying the upper benches of the parcel to a public trust for at least $12 million. But the ski company balks when Aronstein proposes using the conservation easement as leverage to obtain a ski connection through U.S. Forest Service land, a politically sensitive issue for the ski company.

• Oct. 19, 1998 - Seven arson fires are set on Vail Mountain, destroying the Two Elk Lodge, damaging four chairlifts and causing $12 million in total damage. The radical environmental group Earth Liberation Front claims responsibility in the name of the Canada lynx, a small wildcat believed at one time to live in area. The costliest case of eco-terrorism in U.S. history at the time remained unsolved for years. Only recently were several ELF members convicted of the crime.

• August, 1999 - Vail Resorts officials for the first time publicly acknowledge conservation may be the most appropriate use for the Gilman tract. Eagle Valley Land Trust and U.S. Forest Service officials subsequently reveal they have had discussions with the ski company about preserving the parcel.

• Fall of 1999 - Minturn begins drafting a memorandum of understanding with Vail Resorts, which is ultimately approved by both parties, that gives the town final say over any lift connection between the town and Vail Mountain. The biggest concern cited by town officials at that time is the Union Pacific rail yards, which the ski company is said to be eyeing for development.

• October, 1999 - Vail's board of directors decides to exercise its 50-percent option on the Gilman tract in a bid to maintain some control over the parcel and recoup some of its $4.5 million investment. The ski company confirms its desire to pursue a conservation easement. Turkey Creek refuses the ski company's $5,000 check.

• November, 1999 - Turkey Creek, LLC, sues Vail Resorts in Eagle County District Court for breach of contract for failing to aggressively pursue development of the Gilman Tract. Vail Resorts counter-sues.

• January, 2000 - The Blue Sky Basin ski expansion, formerly Category III, opens to the public.

• Sept. 24, 2003 - District Judge David Lass finds in favor of plaintiff Turkey Creek, LLC, in its lawsuit against Vail Resorts, ruling the ski company breached its 1992 contract with Turkey Creek (a 50-percent option) by "not committing to prompt and diligent development of the property." Lass also states Vail Resorts used the public relations value of preserving the tract as open space in order to gain approval of its Blue Sky Basin expansion. The judge rules Vail must forfeit its development option and its original $4.5 million investment.

• Nov. 21, 2003 - Vail Resorts appeals district court ruling to Colorado Court of Appeals in Denver. The appeals court later upholds the district court ruling.

• Jan. 5, 2005 - The Ginn Company, a golf resort and residential development company based in Florida, purchases 5,300 acres of the Gilman tract for $32.75 million, revealing that it hopes to build an unspecified number of homes on the land, as well as possibly a private ski area and golf course.

• Feb. 1, 2005 - The Minturn Town Council votes against exploring annexation of the Gilman tract as requested by new owner Bobby Ginn, saying the developer had not revealed enough of his plans for the parcel.

• Feb. 15, 2005 - The Minturn Town Council reverses itself and votes to explore annexation of the Gilman tract after developer Bobby Ginn reveals more details of his project.

• Feb. 27, 2008 - After three years of negotiation, the Minturn Town Council unanimously votes to annex the project and proceed with final approval.

• May 20, 2008 - In a referendum, Minturn voters will decide whether to uphold a unanimous Town Council decision to annex Battle Mountain, or reverse their approval, potentially sending the entire project back to the drawing board.
Supporters, including unanimous town council annexation approval in February, several Main Street businesses and citizen leader and former councilman Fred Haslee, say the project will reinvigorate a town that's been bypassed and overlooked by Vail, Vail Resorts and the entire Vail Valley for the past 40 years.

"With the Ginn development, all the things that we've seen in communities surrounding us are suddenly viable for our residents," Haslee said. "Right now there's one basketball court - half court - and a couple of horseshoe pits, some playground equipment … this developer is going to build new amenities [including a recreation center] and put Minturn on the map."

But detractors say it will forever alter the funky hideaway off the backside of Vail Mountain, where skiers often head out of bounds and ski down to the Saloon, a legendary local hangout, via the Minturn Mile, a classic backcountry ski run. Frank Lorenti, a political greenhorn, has openly called for Ginn to "pack up and head back to Florida."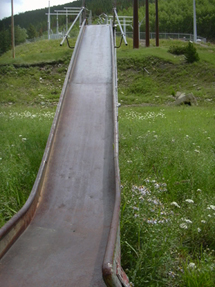 "If this goes through, I'll make money," said Lorenti, who owns a storefront building in town and circulated the petition that forced a referendum on the project, "but I don't want to lose my small-town way of life."

A portion of the resort, almost all of which would be located above 8,000 feet in elevation, would be built on the rust-colored tailings of an EPA Superfund cleanup site.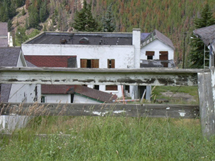 Another section would be within the boundaries of the condemned and abandoned mining town of Gilman, and another portion would be built in pristine, high-elevation forest about a mile from Vail's Back Bowls.

The Ginn Company, with golf and beach resorts throughout Florida and the southeastern United States, purchased the land for $32.75 million in 2005, and suddenly a town that hadn't seen high-powered negotiations since the decline of mining in the early years of the 20th century was across the table from a multi-billion-dollar corporation.

Town officials warmed to the task and began leveraging hard, asking for a list of improvements including a new recreation center, a new wastewater treatment plant, a scholarship fund, money for the purchase of nearby open space and $3.5 million for wildlife protection - among other benefits totaling nearly $200 million.

In return, Minturn would annex the Gilman property, approve the project's increased density over what Eagle County would allow, and help provide the magical ingredient for any Western development project: water.

Lorenti said Ginn's development will subjugate the town to the Ginn Company's rule, dismantle the town's unique character, decimate prime elk and other wildlife habitat, raise property taxes and choke two-lane Main Street in a cacophony of big trucks for years to come.

Supporters counter it will remove the specter of lead, zinc, gold and silver mining's heavy pollution in the area. According to Minturn town documents, Ginn must have EPA approval to build his golf courses, which are planned for the still-contaminated Bolts Lake area just outside of town.


Lorenti isn't sure Ginn has the power to complete the work that the multi-billion-dollar Superfund cleanup hasn't yet fully accomplished. On the other hand, supporters point out that Ginn once converted Florida's toxic Lake Apopka into the ritzy Bella Collina resort.

The $3.5 million included for wildlife protection is another boon, supporters say, but others argue the money is too little, too late.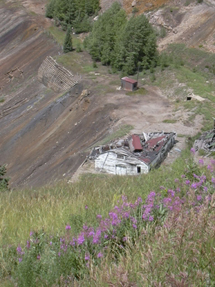 Ryan Bidwell, executive director of environmental watchdog group Colorado Wild, said conservationists and the ski and real estate company Vail Resorts missed a critical opportunity early in this decade to buy the land from its previous owner, Turkey Creek, LLC - a pair of Denver lawyers who pieced together the property by snapping up old mining claims in the early 1990s.

"It's unfortunate in a lot of ways that people didn't have the vision to think about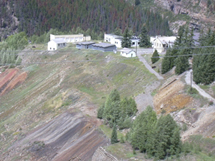 conservation of that property when it might have been an easier option," Bidwell said. That option existed during a brief window between 2003 and 2005.

In the 1990s, Vail Resorts had 50-percent development option on the property, and some were concerned that the ski company - which was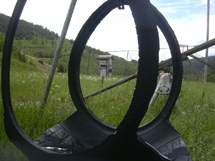 waging a war of public opinion during its Blue Sky Basin expansion - would build a resort similar to Ginn's, then connect the two via a one-mile ski corridor.

After environmentalist protests over Blue Sky Basin turned ugly in 1998, with the eco-terrorist organization Earth Liberation Front torching several buildings and chairlifts on Vail Mountain, Vail appeared to give up on any plans to develop the Battle Mountain parcel.

When Vail Resorts began publicly discussing a conservation easement on portions of the property, Turkey Creek sued for breach of contract. In 2003, a judge ruled in favor of Turkey Creek, Vail Resorts was out and Turkey Creek started shopping the property around.


Eagle County was engaged in an open-space buying spree at the time, spending millions for the Bair Ranch property at the mouth of Glenwood Canyon and the Eagle River Preserve in Edwards. The money, some contend, could have been used instead to buy the Battle Mountain property rather than smaller parcels down valley.

After the Minturn Town Council unanimously approved annexation on Feb. 27 of this year, Lorenti began gathering signatures to take the issue to a referendum. In a town with roughly 720 voters, Lorenti gathered 89 signatures - enough to put the issue to a critical vote. A "yes" vote would be a huge step toward development, but a "no" vote isn't likely to kill it completely.

"If we vote no, (Ginn) is either going to leave or he's going to renegotiate with us," Lorenti said. If Ginn renegotiates, Lorenti said, the citizens of Minturn could fight for a lower mill levy, water and sewer fees, and "a lot of stuff that could be putting money in the citizen's pockets rather than the town's pockets."

The key to Lorenti's argument is that Ginn won't pack up and head down the road to seek approval from Eagle County, which currently has jurisdiction, or seek annexation into the nearby town of Red Cliff, opening a new cycle of negotiations with either of those entities.

"He's smokin' dope on that one," Haslee countered, adding he thinks Red Cliff or Eagle County would jump at the chance to be a part of a project that could reap millions in property taxes for either entity - and Minturn would once again be left in the cold.

Ginn Company spokesman Cliff Thompson declined to comment until after the May 20 vote, instead referring questions to the citizen-support website at Minturn Citizens for Annexation.

Town councilwoman Shelley Bellm, who voted in favor of annexation, said, "No matter how deep you dig or how shallow you go, you can find a benefit for everyone."

She also pointed out that if Ginn takes his plans to Eagle County or Red Cliff, Minturn would still shoulder the impacts of the development, without any of the benefits.

If voters approve the project May 20, they will have a say in everything from how much traffic comes through the town to how much money is spent rebuilding Minturn's aging infrastructure, Bellm said.

And it surely hasn't escaped notice that, although the ski and golf resort will be private, Minturn residents would be offered discounted membership. But don't expect Lorenti and Haslee to be meeting up for a friendly round of golf anytime soon. Insiders say the project is still many years away from completion.

For more, visit the town of Minturn's detailed outline of the project at Minturn.org. Visit the supporter's website at www.minturncitizensforannexation.com and the opposition's website at www.minturntimes.com.


2 Comments on "Ginn company battles for private ski area, golf course, between Vail and Beaver Creek"