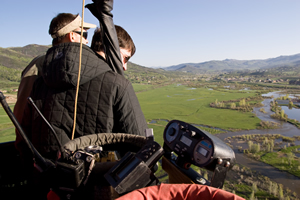 Prospective buyers float over the proposed Edgemont development in Steamboat Springs last week.
Special to realvail.com
Cordillera developer sells $45 million of real estate in Steamboat
Edgemont enjoys one-day sales blitz despite down market nationally
By realvail.com
June 11, 2008 — Cordillera developer Gerry Engle's Atira Group sold $45 million in real estate in one day in Steamboat Springs last week, with an average sales price of more than $2 million per property at its new Edgemont development.

Even as projects in Colorado's high country and major metropolitan areas are being cancelled due to lack of sales, Edgemont provided plenty for room for optimism, especially for new slope-side inventory.

"Despite the difficult economic climate," said Garrett Simon, vice president of development for the Atira Group, "Edgemont's results show that there's always demand for great real estate."



The opening day sales volume meets pre-construction requirements, making it possible to start construction on the site in June.

"These results show that it really doesn't matter what is happening with the economy when it comes to 'beachfront' or should I say, 'slope-side' real estate. An excellent location will always resonate with buyers who are the end-user," Simon said.

"This is a great day for the Atira Group, developers of Edgemont, a great day for Steamboat and finally, some good news on our nation's real estate front," Simon added.

After an early morning float over Steamboat in a hot air balloon, prospective buyers gathered with their brokers and the Edgemont team for the afternoon selection event at the Real Estate Preview Center. Those who were not able to attend in person joined live online from their home or office.

"We are thrilled to be among the first owners at Edgemont. This will be ski-in/ski-out at its very best on the mountain, and there isn't a better mountain community in the West than Steamboat Springs," said Jack Quinn, former White House counsel in the Clinton-Gore administration and founder of Quinn Gillespie & Associates. He and his wife, Susanna Quinn, a writer, contracted on Edgemont's opening day.

Much like the Quinns, the majority of buyers purchased their residence at Edgemont as a second home with plans of spending time throughout the year in Steamboat Springs with friends and family. Direct ski slopes access combined with an intimate community setting and well-designed residence plans were at the top of the list for Edgemont's first homeowners.

Situated on the edge of the Steamboat Ski Resort, perched just above the base area, with the gondola on one side and the Christie Peak Express on the other, Edgemont's access to the mountain is unmatched by any other new property available in Steamboat.

With views from every home, owners at Edgemont will enjoy spacious open floor plans ideal for entertaining, as well as a host of community amenities, including an outdoor heated pool, hot tubs and fire pit, ski lockers, family game and media rooms, a fitness facility and underground parking.

Edgemont is being developed by The Atira Group, a Steamboat-based community developer. S&P Destination Properties is the exclusive listing broker for Edgemont. The remaining residences at Edgemont will be available through the summer.


2 Comments on "Cordillera developer sells $45 million of real estate in Steamboat "