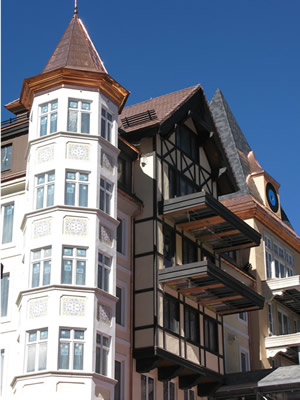 The sale of Arrabelle at Vail units accounted for nearly $45 million of May's $158 million in real estate sales in Eagle County - the second lowest monthly total since 1996.

May sees second lowest monthly total of Vail Valley real estate sales since 1996
By David O. Williams
July 5, 2008 — Vail and Eagle County real estate sales were off by nearly 50 percent in May, according to a title company that tracks local market trends, making May the second-worst month for real estate sales in the Vail Valley since 1996.

Overall, 2008 real estate sales are behind the record-setting pace of $2.96 billion set in 2007 by about 30 percent, and one real estate agent who's been selling homes in the Vail Valley since 1978 said May's number would have been even worse if the statistics didn't include some contracts inked more than a year ago.

Thirteen units in Vail Resorts' new luxury Arrabelle Hotel near the gondola in Vail's Lionshead neighborhood accounted for nearly 30 percent of the month's overall sales volume of $158.5 million. But most of those contracts were signed well before Arrabelle was completed this past winter, and the sales — totaling $44.6 million — were just closed in May.

"I like to look at what's going on right now," said Craig Denton of Ron Byrne & Associates Real Estate. "I don't think people realize the effect the credit market is having and is going to have still on purchases here as well as in general."

Despite record sales numbers in 2007, Denton said the air started leaking out of the local real estate bubble toward the end of 2006. Now, he said, it's safe to say the bubble has finally burst. He likened the current market to a downturn in the 1980s that saw homes sitting unsold for months on end and developers running out of funds mid-project.

"I think by telling everybody how great things are and nothing's changed, it's making people sit on the fence as opposed to the message of, 'Great opportunities, make offers' to get people in," Denton said of a lingering sense of optimism in the mountain real estate market.

"Everybody wants to just list properties and hope for a low-flying angel to come in, and that's not it nowadays. To say what's going on in the economy and the rest of the world is not affecting us is just not correct," Denton said.

1 Comment on "May sees second lowest monthly total of Vail Valley real estate sales since 1996"