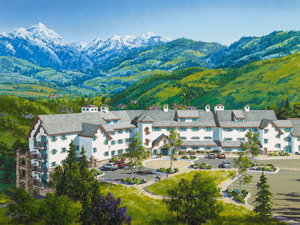 Construction is expected to begin this fall on Cordillera's first fractional-ownership project, Paramonte Private Residences.
Courtesy of Cordillera
Cordillera offers first fractional-ownership project: Paramonte
By realvail.com
July 12, 2008 — One of the Vail Valley's most unique and intimate hideaway, the Lodge & Spa at Cordillera, is taking on a renewed focus as an independent, high-end retreat by launching Paramonte Private Residences, a luxury fractional ownership private residence club.

Construction on the first fractional ownership opportunity at Cordillera -- Colorado's premier golf and ski community – is expected to begin in the fall.

Located high above the Vail Valley on a ridge with sweeping vistas from all rooms, Paramonte's three-bedroom 2,000-square-foot residences feature granite bathrooms and kitchens, custom cabinetry, walnut hardwood floors, indoor and outdoor fireplaces in every residence, and the finest quality commercial stainless steel appliances. Each residence will include three en-suite bathrooms plus powder room.

Paramonte will be serviced by The Lodge & Spa at Cordillera, and its residents will be able to enjoy the many services and amenities of a world-class hotel property, including the 20,000 square-foot spa, indoor and outdoor pools and hot tubs, fitness center and award-winning restaurant.

Owners also will have access to Cordillera's master-designed golf courses by Jack Nicklaus, Tom Fazio, Hale Irwin and Dave Pelz, and to the private Cordillera fly-fishing waters on the Eagle River. Other summer activities include horseback riding, tennis, four-wheel adventures and whitewater rafting. With private ski clubs at the base of the lifts in Vail and Beaver Creek, residents will also enjoy the Vail Valley's winter wonderland of downhill and cross-country skiing, snowshoeing, ice skating, dog sledding and horse-drawn sleigh rides.

Paramonte is an exclusive Private Residence Club whose owners will hold the key to a world of gracious vacation and leisure living. Ownership rights are evidenced via a deeded, fee simple, 1/8th interest in a vacation residence. Owners will also hold a common interest title to a proportionate share of the Paramonte common property. Deeded ownership provides owners with the security and advantages of owning ultra-prime resort real estate in Cordillera.

"Industry reports are telling us that fractional ownership and the private residence club concept are among the fastest growing sectors of the tourism, real estate and hospitality industries worldwide, with the number of identified resorts offering these products worldwide increasing by 39 percent in 2006," said project developer, Patrick Hanes. "Cordillera has so much to offer a Paramonte resident. Residents are guaranteed a minimum of six weeks of use per year, and with four seasons of a variety of activities, premier services and amenities, we have no doubt that families will keep coming back for more."

Go to www.Paramonte.com or call (970) 309-4098 locally or (866) 830-3906 toll free.




1 Comment on "Cordillera offers first fractional-ownership project: Paramonte"