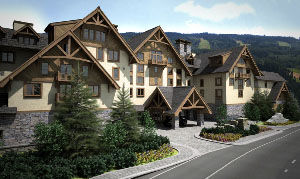 The Four Seasons Residence Club in Vail is expected to be completed by 2009.

Four Seasons Residence Club cites international buyers as one force behind sales
By realvail.com
August 30, 2008 — Four Seasons Residence Club Vail recently issued a press release reporting that the project is enjoying robust sales despite an increasingly volatile real estate market within the U.S. The release noted increased attention from international buyers, as well as renewed interest from baby boomers. About 35 percent of the nineteen 1/12th fractional residences have been sold.

"We're thriving in a unique micro-climate," said Jeff Meier, senior director of sales and marketing for Four Seasons Residence Club Vail, in the release. "Vail real estate buyers see the pace at which inventory is diminishing and are responding more quickly. We're still experiencing strong demand, from both domestic and international marketplaces.

"About 19 percent of our buyers have come from outside the U.S. and inquiries from these areas are growing," he said.

Vail Resorts, which owns Vail and Beaver Creek ski areas, reported a 26 percent increase in international visitors during the winter season, which may be part of the reason for increased interest in Vail Real Estate from international buyers.

Situated at the main entry to Vail Village, Four Seasons Resort Vail is the third mountain property in the collection and the first Four Seasons for Colorado; scheduled to open in late 2009. The property features a 120-room resort, as well as limited real estate opportunities, including 19 fractional residences sold at 1/12 interests, and 16 private residences. Owners will enjoy luxury living with full access to Four Seasons services and amenities, including a spa and fitness club, lap pool, fine dining restaurant, dedicated ski and snowboard valet service, and the signature Kids For All Seasons program.

Vail Colorado real estate sales and inquiries for Four Seasons Residence Club Vail are managed by Playground Destination Properties Inc. For further information, contact Jeff Meier at (877) 748-VAIL (8245) or visit www.fourseasons.com/ownvail.

Comment on "Four Seasons Residence Club cites international buyers as one force behind sales" using the form below