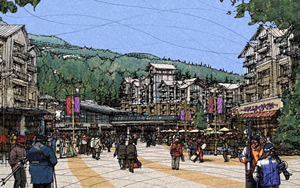 Vail Resorts' Ever Vail plan gets highest possible 'platinum' LEED rating
By realvail.com
October 16, 2008 — Vail Resorts Wednesday announced that plans for its $1.5 billion proposed Ever Vail village development project located in the westernmost base area of Vail Mountain has been awarded the highest rating possible "platinum" rating under the first stage of LEED (Leadership in Energy and Environmental Design) review for the Neighborhood Development (ND) rating system.

Ever Vail is one of only two planned projects in the U.S. that has been certified at the highest level of green building standards under the pilot LEED-ND rating system, and the only one in the Rocky Mountain region.

"Being awarded the highest level of green building certification by the U.S. Green Building Council speaks to the commitment Vail Resorts has to the environment and to the dedication, hard work and creativity of our Company's development design team," said Rob Katz, chief executive officer of Vail Resorts.

"Once completed, Ever Vail will become an iconic example in the U.S. for not only sustainable mountain resort development, but for offering an exceptional employee, resident and guest experience at the nation's premier ski destination."

The LEED-ND rating system, launched in February 2007, was developed to encourage environmentally superior development that brings elements together into a neighborhood and relates the neighborhood to its larger region and landscape.

The Vail Resorts Development Company, along with a design team led by Callison and supported by sustainability consultants Paladino & Company, both of Seattle, Wash., have worked for more than a year to develop a project plan for Ever Vail that incorporates sustainable practices at all levels of design. Several strategies under consideration include:

o Restoring and enhancing of Red Sandstone Creek and associated onsite wetlands to protect ecological communities and restore wetlands degraded by previous development.

o Designing a compact, pedestrian friendly development with public spaces and diversity of uses to support a year-round vital community.

o Selecting a previously developed and environmentally degraded site as opposed to using a previously undeveloped site
o Creating onsite affordable housing for Vail Resorts employees and other Vail Valley residents.

o Designing and constructing buildings to use 20-30 percent less energy and 30-50 percent less water than conventional construction.

o Using renewable energy sources, including solar hot water and biomass energy from beetle-kill pine trees harvested in the local forests.

o Incorporating solar thermal collectors to provide most domestic hot water needs and supplement space heating.

o Using local materials to reduce carbon emissions from transportation and to support local economies.

o Using high-recycled content materials throughout the project.

o Designing mixed-use buildings of varying scales and street widths for a variety of pedestrian experiences.

o Incorporating environmentally friendly storm water management systems.

o Committing to sustainable operations of each building that includes waste, water and energy management programs.

o Connecting to local and regional bus systems and providing a complimentary community bicycle program and public education program on living sustainably.

o Certifying that at least 80 percent of the buildings will meet LEED-NC (New Construction) standards.

The planned Ever Vail project will be located on an 11-acre site in West LionsHead at the base of Vail Mountain, and will consist of over one million square feet of mixed-use space including residences, a RockResorts hotel, a destination spa, offices, retail shops and restaurants, mountain operations facilities, a public parking garage, a new gondola and related skier portal and a public plaza.

As an important piece in creating a vibrant, year-round community in Ever Vail, Vail Resorts is proposing to include over 100 beds within the project in what will likely be the most desirable affordable, deed-restricted housing available for purchase in the Vail Valley.

The one- and two-bedroom units will range in size from approximately 700 to 1,300 square feet and will be designed to attract singles, couples and families interested in living in a sustainable, pedestrian-friendly community with a mix of retail, restaurants and public amenities all within walking distance at the base of Vail Mountain.

The Ever Vail development project is currently in the planning stages and is subject to receipt of governmental approvals and finalization of necessary agreements. Visit www.evervail.com for more information.



3 Comments on "Vail Resorts' Ever Vail plan gets highest possible 'platinum' LEED rating"