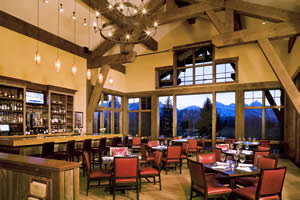 The interior of the new, green-built Jackson Hole Golf and Tennis Clubhouse and Proshop.
Courtesy of Slifer Designs
Slifer Designs, VRDC team up for LEED Gold on Jackson project
By realvail.com
October 26, 2008 — The Slifer Designs hospitality interior design team, based in Edwards, recently announced the completion of their first LEED Gold certified project – the Jackson Hole Golf and Tennis Clubhouse and Proshop, owned and operated by Vail Resorts Development Corporation (VRDC).

As the interior designer, Slifer Designs chose sustainable design elements that earned points toward the project's LEED (Leadership in Energy and Environmental Design) ertification, including:

• Furniture made by manufacturers who enlist eco-friendly methods
• Furniture made with formaldehyde-free foam
• Furniture made with water based finishes and low VOC emissions
• Furniture made with Forest Stewardship Council (FSC) certified new wood.
• Furniture made from salvaged wood.
• Furniture made from wind/storm damaged trees.
• Stones and woods from a 500-mile radius of the property.
• EcoSolution 100% nylon carpet with low emitting adhesives.
• Waterless and low-flow plumbing.
• Low VOC (low odor) paint.
• Recycled porcelain.

In a letter to Keith Fernandez, President of VRDC, Richard Fedrizzi, the President, CEO and Founding Chairman of the US Green Building Council (USGBC) states that "LEED Gold Certification identifies the Jackson Hole Golf and Tennis Clubhouse and Proshop as a pioneering example of sustainable design and demonstrates (VRDC's) leadership in transforming the building industry."

Donna Figg, Director of Hospitality Design for Slifer Designs, teamed with Sarah Carr, Project Manager, Lori Gleason, Project Manager and Cate Grasch, Production Coordinator.

"Our green design capabilities and expertise have strengthened with the completion of this project," said Figg. "With the increase in green awareness and source offerings, we are able to create genuine green design.

"This is a feel-good project that leads the way toward more green building opportunities for everyone. We look forward to final completion and the LEED scorecard results for our next green project, Shadowrock in El Jebel," Figg continued.

To view a simplified version for the Jackson Hole Golf and Tennis Clubhouse and Proshop's LEED Project Scorecard, visit www.usgbc.org. Slifer Designs is a member of the USGBC, the Sustainable Furniture Council and the Eagle Valley Alliance for Sustainability.


Comment on "Slifer Designs, VRDC team up for LEED Gold on Jackson project" using the form below