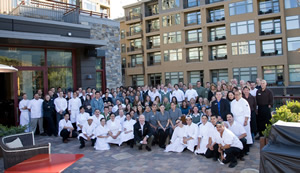 The Westin Riverfront Resort & Spa, which opened to the public last month in Avon, has been a driving force behind a surprisingly steady local real estate market.
Courtesy of the Westin Riverfront Resort & Spa
www.riverfrontresortandspa.com
Vail Valley sales steady month-to-month but off 35 percent year-to-year
Westin project in Avon keeps September volume solid in Eagle County
By realvail.com
November 7, 2008 — The Eagle County real estate market, while obviously significantly down from last year's record sales volume, has been surprisingly steady month-to-month in 2008, with September's volume of $169,448,700 the second busiest month of the year and just under the monthly average of $185 million.

Still, September was 35 percent behind the record pace established in September of 2007, a year in which the county established an all-time yearly record of $2.96 billion in sales.

According to a monthly analysis provided by Land Title Insurance, there were 166 transactions in September, with sales at the new, green-built Westin Riverfront Resort & Spa in Avon driving much of that volume.

There were 35 sales in September totaling more than $27.6 million and five transactions in excess of $5 million. The biggest sale was a single family home in Arrowhead that sold for $7.7 million.

Year-to-date highlights through September:

• There have been 72 transactions over $4 million.

• Multi-family homes account for 57 percent of all residential transactions, averaging $1,302,963.

• 33 percent of residential properties sell between $500,000 and $1 million.

September highlights:

• Average price of a single family home was $1,548,406.

• Avon had the most transactions (35) and highest dollar volume ($29,506,300).

• The average price for all residential properties were $1,089,790.




Comment on "Vail Valley sales steady month-to-month but off 35 percent year-to-year" using the form below