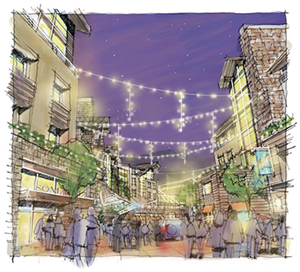 Ever Vail is the largest development proposal in the Town of Vail's history. The area just to the west of The Ritz-Carlton Residences and the Vail Marriot will become Vail's fifth mountain portal with gondola access, public parking, and new mixed-use residential and commercial space.
Illustration courtesy of
www.evervail.com
Vail Resorts' Ever Vail development review process to begin Dec. 2
A second presentation scheduled for community open house at Donovan Pavilion Dec. 10
By realvail.com
November 25, 2008 — The largest development proposal in Vail's history will begin working its way through the town's development review process beginning Dec. 2. A comprehensive presentation outlining the Ever Vail project will be shown to members of the Vail Town Council, Planning and Environmental Commission and Design Review Board by Vail Resorts Development Company.

The joint meeting, scheduled for 6 p.m. in the Vail Town Council Chambers, is the first such meeting of the three boards since submittal of the Arrabelle at Vail Square development in 2004. The presentation is the second item on the Town Council's evening meeting agenda.

Vail Resorts Development Company and its team of designers will use the meeting to present a comprehensive overview of the Ever Vail project and to begin to answer any preliminary questions that may arise. A second presentation will be hosted by Vail Resorts Development Company during a community open house beginning at 5:30 p.m. Dec. 10 at Donovan Pavilion. This will be another opportunity to receive a project overview and to ask questions.

As proposed, Ever Vail would become Vail's fifth mountain portal with chairlift access, public parking and a newly-built neighborhood offering a mix of residential and commercial space built on approximately 11-acres in West LionsHead.

The plans also include a proposal to realign the South Frontage Road for additional continuity. The project is being represented as one of the largest "green" environmentally sustainable resort development projects in North America. The project plan has received a Platinum rating by the U.S. Green Building Council's LEED Neighborhood Development Program.

The town's development review process will take many months and includes numerous phases. The initial milestones include the review of an application to realign the South Frontage Road and other vehicular and pedestrian circulation systems, consideration of an application to subdivide and reconfigure the property lines affecting the development site, and a review of an application to rezone a portion of the development site to the LionsHead Mixed Use - 2 zone district.

The first of many public hearings on the Ever Vail project development review applications will begin with a work session meeting with the Planning and Environmental Commission at 1 p.m. on Dec. 8.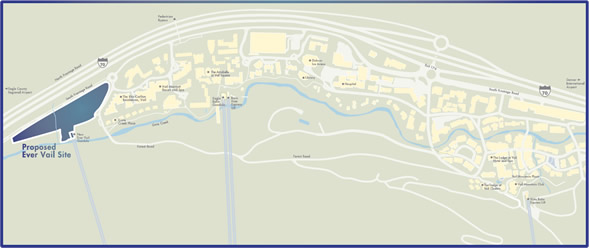 The area in blue is the proposed site for Vail's largest LEED-certified development.


Comment on "Vail Resorts' Ever Vail development review process to begin Dec. 2" using the form below