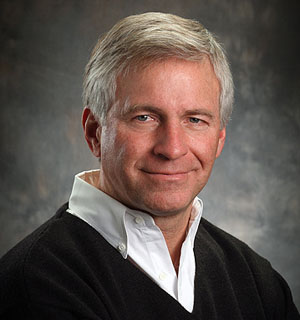 Bill Wilto says the positive side of a down economy is the extra time it allows for heading up on the hill.
Courtesy ReMax Vail Valley, Inc
As Vail Real Estate market reels, one Realtor sees lasting value in living, buying in Vail
By Tom Boyd
December 19, 2008 — Like most realtors in the Vail Valley, Bill Wilto has a bit of extra time on his hands this winter. All the better, he says – it makes more time to enjoy the outstanding ski conditions on Vail and Beaver Creek mountains.

"When the economy is as bad as it's been those of us who live here get to go skiing and have a good time," says Wilto, of ReMax, Vail Valley Inc. "So, it's not so bad."

"The economy" … those two words have a meaning all their own in the in Vail, around the country, and around the world. The Real Estate market has practically ground to a halt as buyers struggle to find lending dollars and sellers hold prices high, hoping to recoup losses and sell properties at a higher rate once "the economy" recovers.

"We're seeing things we've never seen before, so we're all very concerned," he says. "But we (in the Vail Valley) can go outside and ski Vail and Beaver Creek and enjoy what's out there. A lot of unfortunate people in other places can't do that. They're experiencing the same things we are, but doing it without the surroundings and the lifestyle we have here."

As tough as it is, Wilto also thinks that, "With the Vail Real Estate Market I think this is the best time to buy that I have ever seen. I'm having more lenders telling me that they have great rates and the money's available. In any neighborhood in the Vail Valley there are some good buys."

But Wilto cautions investors, recommending them instead to places like Southern California, Florida, and Nevada.

"I don't think that buyer's right for Vail," he says. "I think we want the end-user, the person who's going to be here for a long time, enjoying the property with their family, just to enjoy the lifestyle instead of just owning for two-to-five years and turning it around for a profit."

Wilto, who began coming to Vail in '64 and moved to Vail full-time in '72, says Vail has been through tough times before and will tough it out through the current economic crisis. Well-built homes in prime locations, with good views, he says, will maintain their value.

In the meantime, the best way to hear more of his advice and pick up on his experience with Vail Valley real estate is to head up on the hill, make a few turns, and ask his thoughts during breaks between powder turns. Contact Wilto at www.remax-vail-co.com, (970) 766-7355, or (800) 777-1892.


Comment on "As Vail Real Estate market reels, one Realtor sees lasting value in living, buying in Vail" using the form below