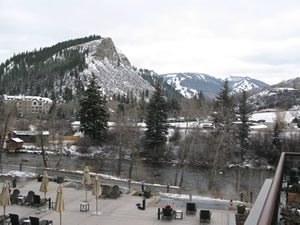 The view from the Westin Riverfront in Avon, along the banks of the Eagle River, was apparently compelling enough to help close 16 sales in December totaling more than $17 million.

Eagle County real estate ends 2008 down 25 percent from record 2007
December registers fewest transactions since 1996, but month still totals more than $225 million
By realvail.com
February 8, 2009 — Eagle County ended the year with $225,150,500 in total dollar volume in December, bringing the year-end total to more than $2.2 billion for 2008, according to Land Title Guarantee Company.

The 2008 total was 25 percent shy of the 2007 record total of $2.96 billion but down just 19 percent from 2006.

The driving force in Eagle County in 2008 was the high-end properties sales. There were 71 transactions of more than $5 million for the entire year, and 12 of those transactions were in December.

That's 17 more transactions in the $5 million-plus level than Eagle County saw in 2007.

High-end sales helped create one of the highest average sales price months the county has ever seen at $2,207,358. Here are a few of the key projects driving December numbers:

* The Westin Riverfront Resort and Spa had 16 closings totaling $17,043,200.

* Vail Mountain View Residences had 16 closings totaling
$54,841,400 for an average price of $3,427,588 per unit.

* Chalets at Lodge at Vail had five closings totaling $60,250,000 for an average of $12,050,000 per unit or $2699.79 per square foot.

* Manor Vail had two closings totaling $28,745,500 for an average price of $14,372,750 per unit.


While total dollar volume stayed above $2 billion for the fifth consecutive year, the number transactions declined to a total of 1,606 for 2008, 40 percent fewer than last year.

The number of transactions in December, 102, was the fewest in a given month since Land Title started tracking local real estate statistics in 1996.





Comment on "Eagle County real estate ends 2008 down 25 percent from record 2007 " using the form below