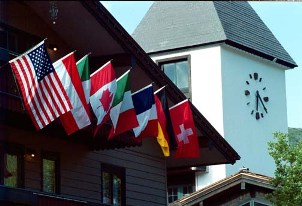 Vail Village did most of the heavy lifting in January for the otherwise moribund Eagle County real estate market, where the dollar volume was off 67 percent from 2008.
By Dan Davis
First month of 2009 sees 67 percent drop in real estate sales from 2008
By realvail.com
March 2, 2009 — Eagle County real estate sales set a sobering tone for 2009 with 46 transactions totaling just under $40,500,000.

The dollar volume was off by more than two-thirds (67 percent) from January of 2008, which was off 28 percent from the county's overall record year of 2007, when nearly $3 billion of commercial and residential real estate sold.

The overall average sales price for January, according to analysis provided by Land Title Guarantee Company was $880,163.

Vail Village accounted for the most activity in January with 11 transactions totaling nearly 25 percent of the total dollar volume at $9,537,500.

The most residential activity occurred in the price point range of $500,000 to $1,000,000. This segment of the market accounted for 48 percent of the transactions, with the next closest at 22 percent in the price range under $500,000.

Other highlights include:

* Multi-Family homes had an average sales price of $1,088,333.

* East Vail recorded the highest area average sales price at $1,371,250, spread over four transactions.

* Vail Village had an average price per square foot of $1,261



1 Comment on "First month of 2009 sees 67 percent drop in real estate sales from 2008"