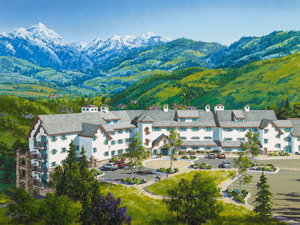 Property value notices go out May 1, but assessor says most home values stayed same or increased
By realvail.com
April 27, 2009 — On May 1, the Eagle County Assessor's Office will mail Notices of Valuation to all property owners of record. Counties throughout the state are required to conduct a complete reassessment of all property every two years. Under Colorado law, property valuations must reflect the real estate market activity from Jan.1, 2007 to June 30, 2008.

According to Eagle County Assessor Mark Chapin, in most cases property values have increased or remained constant for the 2009 reassessment.

"The perception of property owners may be their value has dropped, but this just isn't the case," said Chapin. "By state law, values were determined during a time period before the county really started to feel the economic downturn."

Valuations will be used to determine 2009 and 2010 property taxes, payable in 2010 and 2011 respectively. To derive the property tax, the actual value of the property is multiplied by the assessment rate set yearly by the state.

For 2009, the rate is 7.96 percent for residential properties and 29 percent for most other properties. The result is then multiplied by the total mill levy specific to each property. To determine your mill levy, visit www.eaglecounty.us/assessor.

Property owners who believe their 2009 property value is not supported by the real estate market from Jan. 1, 2007 to June 30, 2008, or whose property's characteristics are not listed correctly on the Notice of Valuation, can appeal their valuation through June 1.

Appeal in person at the Assessor's Office at the Eagle County Building at 500 Broadway in Eagle, or in writing via mail to P.O. Box 449, Eagle, CO 81631, or by FAX to (970) 328-8679, or by email to assessor@eaglecounty.us. If appealing in writing, be sure to identify the property and provide reasons for the appeal.

El Jebel and Basalt area property owners can make an appointment to see an appraiser at the Eagle County annex in El Jebel on any Tuesday or Wednesday in May by calling (800) 225-6136 x 8640 or 328-8640.

Comment on "Property value notices go out May 1, but assessor says most home values stayed same or increased" using the form below