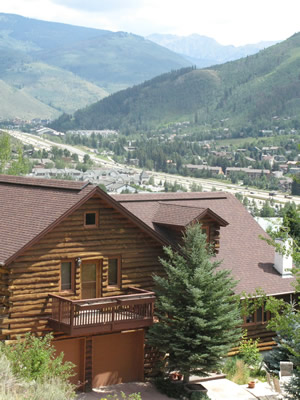 New homes aren't exactly flying up in Vail these days, according to town data, and the value of building permits has plunged significantly, indicating most construction is focused on remodels.
By David O. Williams
Value of Vail building permits plummets more than $15 million in first quarter of 2009
By realvail.com
April 29, 2009 — Construction activity in Vail declined during the first quarter of 2009 compared to development activity for the first three months in 2008, according to statistics from the town's Community Development Department.

The figures show a continuation of the construction slowdown experienced during the fourth quarter of 2008 following five consecutive years of record-breaking activity.

For example, the town issued 124 building permits during the first quarter of 2009, or 20 permits fewer than the same period in 2008, but the valuation of the first quarter 2009 permits totaled just $4.7 million compared to $19.8 million a year ago.

This resulted in a 76 percent reduction in building permit fees paid to the town with $130,162 collected in the first quarter of 2009, compared to $428,035 in 2008.

Development review applications are another important economic indicator. During the first quarter of 2009, the Design Review Board saw 68 applications, compared to 83 the year before, while the Planning and Environmental Commission reviewed 9 applications in 2009, compared with 24 applications during the first three months of 2008.

Community Development Director George Ruther says the figures indicate a trend toward remodels and other smaller projects that are more indicative of Vail's growth pattern prior to the record redevelopment years.

Ruther predicts the remainder of 2009 will track more closely with 2001-02 development figures when most construction activity in the town consisted of smaller, residential additions and remodel or maintenance projects.

The department has focused its 2009 work plan to include creation of a green building code, streamlining the development review process, updating the town code to conform to the 2009 international building code and implementing recommendations of the recently adopted Town of Vail Strategic Employee Housing and Environmental Sustainability plans.

In addition, the department has been spending considerable time with the ongoing development review of the Ever Vail project submitted by Vail Resorts Development Company.

In 2008, the department processed 1,180 building permits during the year, exceeding $308 million in valuation, representing the third highest year for construction. The highest number was set in 2007 with $496 million in permit valuations.

Completed redevelopment projects include Manor Vail, Mountain View Residences, Chalets at Mountain Plaza, Willows, One Willow Bridge Road, Vail Plaza Hotel and Arrabelle at Vail Square.

Comment on "Value of Vail building permits plummets more than $15 million in first quarter of 2009" using the form below