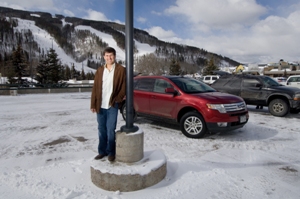 Mark Masinter of Open Hospitality Partners still holds out hope agreements can be reached with Vail Resorts on his proposed redevelopment of the Lionshead Parking Structure.
Dan Davis
trekkerphoto.com
Vail council approves Lionshead development agreement
By David O. Williams
September 18, 2007 — The Vail Town Council by a 6-1 vote Tuesday moved forward with the proposed $620 million redevelopment of the Lionshead Parking Structure, though they acknowledge the whole deal hinges on Vail Resorts coming to the table and negotiating as a critical third party.

The ski and real estate company – which originally owned the land and donated it to the town for parking only - holds a deed restriction on the structure and must remove it in order for Open Hospitality Partners and Ross Perot, Jr.'s Hillwood development company to proceed.

Open/Hillwood's plans call for increasing the number of public parking spaces from the current 1,150 to 1,450 spaces for skier parking, 255 spaces for the project's 60,000 square feet of retail space and 320 private parking spaces to serve the project's condos and two hotels (a W and a St. Regis). The project also includes a conference facility.

Council member Kent Logan praised the project's ability to provide a much-needed parking boost as well as bring a significant number of employee housing units into the mix, and he strongly urged Vail Resorts to work with Open/Hillwood to get the deal done.

"Trying to bring three parties (the town, Vail Resort and Open/Hillwood) together and come to some agreement on the same issues has proven difficult," Logan said.

The development improvement agreement the council signed off on Tuesday stipulates the Lionshead project cannot begin construction until a third parking structure (in addition to Vail Village and Lionshead) is built, and Vail Resorts has proposed a new structure as part of its billion-dollar Ever Vail retail/residential/hotel project in West Lionshead.

But in casting his lone dissenting vote, councilman Kevin Foley said approval of the Lionshead agreement makes no sense given all the other projects underway in Vail and the fact that Ever Vail has not been approved. He was not buying Logan's argument that the Open/Hillwood deal is too good to pass up.

"This whole thing has been exercise in how not to run government," Foley said.

Before the final vote, Logan asked town staff to draft a future resolution compelling Vail Resorts to begin negotiating with Open/Hillwood on removal of the deed restriction and on redevelopment of the Timber Ridge complex to satisfy both company's town-mandated employee housing requirements.

A Vail Resorts representative did not speak at Tuesday's meeting. Open/Hillwood's Mark Masinter remained upbeat about working out the details of the project.

"I truly feel like we've arrived at an agreement that both parties can agree is very fair and equitable," Masinter said.


Comment on "Vail council approves Lionshead development agreement" using the form below