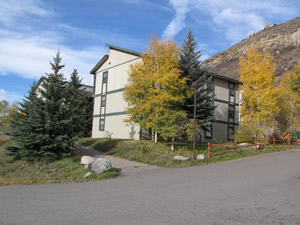 A pair of proposals to redevelop the Timber Ridge employee housing complex differ in that one calls for deed-restricted, for-sale units and the other does not.
David O. Williams
Timber Ridge top concern for Vail Chamber
Most businesses want for-rent, seasonal housing only
By David O. Williams
October 18, 2007 — The future of the town-owned Timber Ridge affordable housing complex on North Frontage Road in Vail is shaping up as one of the key issues defining the Nov. 6 Vail Town Council race.

While philosophical concerns about redevelopment and the long-term impacts of billions of dollars of ongoing construction are garnering the most headlines locally, the very practical issue of where to house resort workers is shaping the Timber Ridge debate.

Ten candidates are vying for five open council seats, and all of them agree housing is a critical topic, but there are varying opinions on what types of housing are most crucial to Vail's long-term success as a resort, and where different types of housing should be located.

Vail Resorts and a Texas-based consortium known as Open/Hillwood have submitted competing proposals to the town to redevelop Timber Ridge to satisfy their own town-mandated housing requirements for projects both entities have proposed in Lionshead and West Lionshead.

Open/Hillwood is proposing the $620 million redevelopment of the Lionshead Parking Structure, and Vail Resorts wants to build the $1 billion Ever Vail complex in West Lionshead, but also has employee housing requirements resulting from other projects such as Vail's Front Door and Arrabelle.

While neither proposal for Timber Ridge has been made public, Open/Hillwood reportedly has said it will redevelop the 198-unit complex (which equates to 600 rental beds) to the tune of 1,400 rental beds and 60 affordable condos.

Vail Resorts has reportedly offered to assume the town's $22 million debt on the complex and build between 1,194 and 1,244 rental beds and no for-sale affordable units.

And that's the crux of the debate. Some say Timber Ridge should have deed-restricted affordable housing for young families to use as a stepping stone in the Vail Valley real estate market.

Others argue it should be all seasonal, work-force housing. It should be noted, however, that Open/Hillwood included affordable, for-sale housing at the behest of some members of the current town council.

A meeting Tuesday, Oct. 16, to publically present the competing proposals was tabled in favor of a special meeting on the topic at 3 p.m., Tuesday, Oct. 30. The question of what type of housing is appropriate on the site is the No. 1 issue for the Vail Chamber and Business Association, which is hosting a council election debate Thursday night, Oct. 18, at Donovan Pavilion.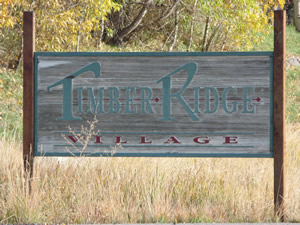 The town-owned Timber Ridge complex near the Vail Post Office is considered by some to be the best opportunity to build low-cost, affordable housing.


Businesses have long lamented the difficulty they have in filling job vacancies, and they point to the lack of affordable housing as the main reason. Still, some business owners see the value in offering affordable, for-sale homes for middle-management personnel.

Dick Cleveland, a former council member and West Vail resident who works as an investigator for the district attorney's office, is running for council again. He falls firmly in the Vail chamber camp of not wanting any for-sale, deed-restricted housing at Timber Ridge.

Scott Proper, a banker who's running for council for the first time, agrees: "Vail Resorts' proposal makes more sense than Hillwood's. Building condos that can ultimately be sold at a substantial profit to second homeowners is something someone with a much more short-term view would do.

"That's the (proposal) I feel most comfortable with," Proper added. "If I'm going to buy property, do I want to live next door to a seasonal employee who doesn't have a long-term stake in the town? Probably not."

Margaret Rogers, a retired attorney and also a first-time council candidate, disagrees. She feels the 10-acre parcel is large enough to accommodate both types of housing.

"Timber Ridge is the single largest parcel of real estate (the town) owns," Rogers said. "I'm not in favor of making it all rental - at least you'd have to convince me that it should be."

She proposes modifying current proposals calling for two rows of four-story structures in order to incorporate a six-story structure on the back row that would treat the two upper floors as for-sale penthouses with views. She also envisions row houses with small yards separate from the main work-force housing component.

"The site is quite large and if you can segregate a portion of it and put in row houses that would be compact with a small yard, that's the kind of housing that families would be interested in owning," Rogers said.

Kim Newbury, an incumbent council member seeking re-election, is the director of reservations for a local hotel. She lives in for-sale, affordable housing in West Vail.

"We're better off with all seasonal housing (at Timber Ridge) than trying to put everything on that site," Newbury said. "Vail Resorts has the right idea in all seasonal and lower rents, but they're adamantly opposed to building a single bed more than what they are required to build."

Both Dave Irwin, an architect and developer who's running for the first time, and Bob McKown, a bar manager who's also a political rookie, say Timber Ridge should be exclusively seasonal rental housing for worker bees.

"I don't get having a thousand people who work here and 50 families with kids. Talk about conflict," Irwin said.

McKown, who lives in the Vail Commons for-sale, affordable complex in West Vail, concurs: "I don't see seasonal employees and homeowners living together. I think it's an oil and water mix. I'm not sure I would buy a home where I knew there was going to be several hundred young, happy seasonal employees at my front door."

Stephen Connolly, who owns his own marketing firm in town and is also running for council for the first time, says he would support a mix of housing on the Timber Ridge site unless Vail Resorts commits to building more for-sale, middle-class housing as part of its Ever Vail development.

"You do have to have some for-purchase, deed-restricted housing to round out our community," Connolly said.



Comment on "Timber Ridge top concern for Vail Chamber" using the form below