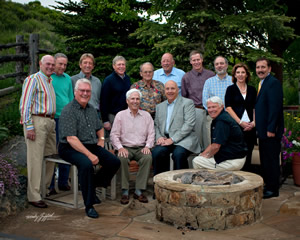 The Vail Valley Medical Center board of directors. Front row, left to right: Donald Mengedoth, Andy Daly, Ed O'Brien and Wayne Wenzel. Back row, left to right: Ron Davis, Art Kelton, Chupa Nelson, Jack Eck, Paul Johnston, Paul Testwuide, Buzz Potts, Reg Franciose, Alice Ruth and Chip Woodland.
Courtesy of Wendy Griffith
O'Brien leaves Vail Valley Medical Center board after 11 years
By realvail.com
June 21, 2009 — Ed O'Brien, a 20-year Vail local with real estate acumen and a volunteer spirit, is stepping down after 11 years on Vail Valley Medical Center's (VVMC) Board of Directors and two years as the Chairman of the VVMC Foundation Board.

O'Brien served as a leader on both the Board of Directors of VVMC and the Foundation Board of Vail Valley Medical Center. VVMC's Board sets the vision and direction of the institution and oversees the overall direction and operation of the Valley's medical institution. The Foundation sees to the development and capital campaign to finance the non-profit organization, which opened for business in 1967.

O'Brien even took over for a short stint as VVMC's interim Chief Executive Officer in late 2004.

"I view VVMC as one of the most significant organizations which serves this community," O'Brien said. "I have had an interest in medical-related nonprofits for many years and thought it was a worthy place to lend a hand to the community in which I believe. There is not a better place to live than Vail and, to the extent I could make a contribution, I was pleased and honored to do so."

Others paid tribute to O'Brien's contributions.

"Ed has been a phenomenal volunteer in a multitude of VVMC and VVMC Foundation initiatives for more than a decade," said Ron Davis, chairman of the board of VVMC. "His undying dedication to our institution and tireless work on our behalf has been extraordinary. On behalf of the entire Board of VVMC, we thank him."

During O'Brien's volunteer years, VVMC saw the purchase of the Weststar Bank Building in Vail, the expansion of the Vail Surgery Center and the creation of the Women's and Children's Center. He was also involved in the development financing of the Shaw Regional Cancer Center and Jack's Place.

O'Brien has had and continues a long tenure in real estate development, financing and municipal financing for a variety of projects. He worked with Vail Resorts on the completion of Beaver Creek Village, development of Bachelor Gulch Village and on a variety of significant local projects from 1993 to 1999. He currently retains interests in real estate developments in Crested Butte.

Active in a number of valley non-profits, O'Brien has served or continues to serve on the boards of numerous local Metropolitan Districts, Property Owner Associations, the Colorado Ski Museum and Colorado Ski Hall of Fame, the Heuga Center and currently remains the chairman of the Eagle River Fire Protection District.




Comment on "O'Brien leaves Vail Valley Medical Center board after 11 years" using the form below