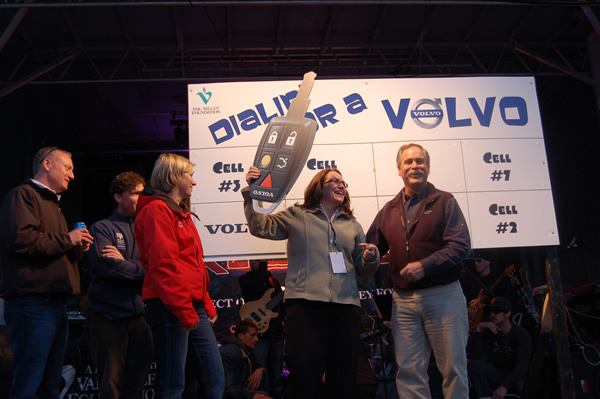 Lynne Campbell of Vail reacts to winning a 2011 Volvo C-30 sedan Wednesday at the culmination of the Vail Valley Foundation's annual Streetbeat concert series.
Courtesy of
vvf.org
Town of Vail office manager scores new Volvo at final Streetbeat concert
By realvail.com
April 16, 2010 — Vail's Lynne Campbell may never have wanted to hear a phone ring more than she did Wednesday evening in the heart of Vail Village, as the office manager for the Town of Vail's Community Development department stood on stage at Check Point Charlie as a finalist for the season-long Bud Light Street Beat Grand Prize - a 2011 Volvo C-30 sedan.

Campbell and Julie Kresko of Edwards were the final two contestants left standing for the 2010 version of the annual Volvo Grand Prize giveaway at the free concert series after six other local contestants had been eliminated. Each of the eight contestants had picked a Cricket Wireless cell phone from a bag and, as each cell phone rang, another unlucky contestant left the stage until just the two women remained.

Campbell, who was drawn as an alternate to round out the field of eight contestants, also earned the right to remove the last squares from the board that revealed which number cell phone would be dialed. She then held the phone to her ear, perhaps praying for the call, and it was answered, both literally and figuratively.

"I've never won anything like this before," gushed a giddy Campbell, wanting to ensure that everyone knew that she did not work 'directly' for Vail Mayor Dick Cleveland, one of the evening's dignitaries. "I won a t-shirt at a radio station once, but nothing like this."

Campbell did give herself a better than average chance to qualify as a contestant, registering at seven of the eight Bud Light Street Beat free concerts throughout the winter.

In addition to the Volvo Grand Prize Giveaway, the evening's festivities also included a Michael Jackson costume contest, which 8-year-old Mack Salmon of Avon captured hands down, courtesy of a black sequined jacket, silver sequined shirt and silver sequined socks, not to mention some solid MJ moves.

The evening featured a Jackson theme, with music for the final Bud Light Street Beat free concert provided by DJ Logic and Thriller.

The Bud Light Street Beat free concert series is a project of the Vail Valley Foundation. For more information on the Foundation or Bud Light Street Beat, visit www.vvf.org.


Comment on "Town of Vail office manager scores new Volvo at final Streetbeat concert" using the form below