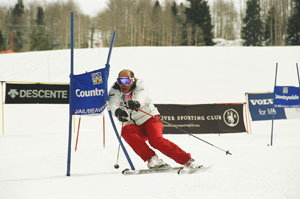 Five-time overall World Cup champion Marc Girardelli will be on hand for the Korbel American Ski Classic legend's race.
Courtesy of
vvf.org
Girardelli, Mahre, Klammer, Kostner, Wiberg among ski-racing legends in town for Ski Classic
By realvail.com
March 12, 2010 — There's gold in them thar hills - not to mention silver and bronze.

Race fans won't have to look far in their search for precious metals at Vail Mountain's appropriately named Golden Peak March 17-21 as the 2010 Korbel American Ski Classic rolls into town on the heels of the Vancouver Winter Games.

With a number of the legends heading to Vail straight from their respective duties in Vancouver, this year's Legends of Skiing field comes complete with numerous Olympic and World Championships medals, not to mention a significant number of career World Cup victories and crowns.

Running the numbers, the 34 men and women legends have accounted for a total of 22 Olympic medals, 41 World Championships medals, 248 individual World Cup wins, 8 World Cup overall crowns and 20 World Cup discipline titles.

"We all know that our legends field features some incredible racers," said Michael Imhof, Vice President of Sales and Operations for the Vail Valley Foundation, "but I don't think you realize how special this event really is until you look at the legends' accomplishments as a whole."

Sharing top honors for the Olympic medal count are Isolde Kostner of Italy, along with Sweden's Pernilla Wiberg, each with three . Luxembourg's Marc Girardelli tops the list of World Championships medals with 11, including a gold and bronze medal haul at the 1989 World Alpine Ski Championships in Vail and Beaver Creek.

Girardelli also reigns supreme in the number of career World Cup victories with a total of 46, while American Phil Mahre edges out Austria's Franz Klammer for the runner-up spot with 27.

A transplanted Austrian that raced for Luxembourg during his illustrious career, Girardelli can additionally lay claim to the most World Cup overall crowns with five, along with the most World Cup discipline titles with six.

The legends officially buckle up for action on Thursday, March 18, with the Volvo Legends Giant Slalom, which will be followed immediately by the free Bud Light Street Beat concert, featuring New Orleans rockers Cowboy Mouth.

In addition, the legends will also serve as team captains for the Korbel Ford Cup celebrity team races on Friday and Saturday, March 19-20. Originally conceived by Austrian legend Pepi Gramshammer, the Legends component was added to the Korbel American Ski Classic schedule in 1983.

The 2010 Korbel American Ski Classic is a project of the Vail Valley Foundation. For additional information on the Korbel California Champagne American Ski Classic or the Vail Valley Foundation, visit www.vvf.org or contact (970) 949-1999.


Comment on "Girardelli, Mahre, Klammer, Kostner, Wiberg among ski-racing legends in town for Ski Classic" using the form below