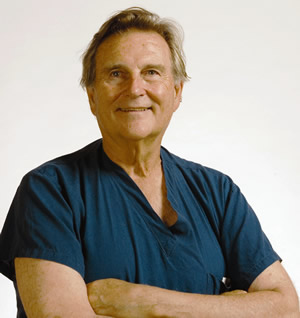 Alpine Gardens to honor Dr. Richard Steadman with Spirit of Betty Ford Award in Vail Aug. 13
By realvail.com
August 2, 2009 — America's highest botanical garden grants its highest honor this month to a longtime Vail resident, world-renowned surgeon and friend of the community.

The Board of Trustees of the Betty Ford Alpine Gardens recently announced Dr. Richard Steadman as recipient of the fourth annual Spirit of Betty Ford Award, to be presented at the nonprofit organization's annual fund-raising gala on Thursday, Aug. 13, at Vail's Donovan Pavilion.

"With the highest respect for Mrs. Ford and what she represents, I'm honored to be chosen," said Dr. Steadman. "I'm grateful and humbled to be given this award and to share the company of past recipients."

The first man to receive the Spirit of Betty Ford Award — created to recognize annually an individual in the community whose spirit and character exemplifies that of former First Lady Betty Ford — Dr. Steadman follows previous winners Helen Fritch, Allie Coppeak and Martha Head.

A vital part of the Vail Valley community for nearly two decades, Dr. Steadman's legacy and contributions to orthopedic sports medicine and rehabilitation have forever changed lives — not only those of local residents, but of people worldwide.

Steadman, an orthopedic surgeon specializing in the treatment of knee disorders, moved to Vail in 1990 and was joined by shoulder specialist Dr. Richard Hawkins in founding what is now one of the world's leading orthopedic practices, the Steadman-Hawkins Clinic, based at Vail Valley Medical Center.

A native of Texas, Dr. Steadman received his undergraduate degree from Texas A&M University, where he played football for Bear Bryant his freshman and sophomore years. After college, he graduated from the University of Texas Southwestern Medical School in Dallas and, following an internship, two years in the U.S. Army and an orthopedics residency at Charity Hospital in New Orleans, moved with his family to Lake Tahoe, Calif., where he practiced orthopedics, with increasing emphasis on the treatment of knee disorders.

While in Lake Tahoe, Dr. Steadman started a nonprofit sports medicine foundation in order to conduct research in knee surgery and rehabilitation projects; that organization exists today in Vail as the Steadman Hawkins Research Foundation. He also was named chief physician for the U.S. Ski Team, for whom he developed special surgical techniques that allowed several members to return to competition and win Olympic medals and championships.

Since then, the surgical techniques and research Dr. Steadman
developed at the Steadman Hawkins Research Foundation have prolonged the careers of thousands of athletes, from Olympic skiers to professional baseball, football, basketball, hockey and tennis players and many others, but he takes pride in what it does for everyone who benefits from the research.

"The work we do at the Foundation is as much about helping
grandparents continue being active with their grandchildren and
children as it is about getting professional athletes back in the
game," said Dr. Steadman. "The Foundation's mission is to help keep people active late into life. That means all people."

In addition to his surgical work and research, Dr. Steadman has been a teacher, with more than 170 fellows who studied under him now practicing worldwide, including head team physicians for the Boston Red Sox, New England Patriots, Denver Broncos, Colorado Rockies, New York Islanders and Dallas Stars. Steadman Hawkins fellows also are prevalent in the academic world, including four professors of orthopedics at Harvard University and the head of sports medicine at University of Michigan.

Along the way, Dr. Steadman's high profile and reputation helped
establish Vail as a world-class destination for people who need world- class orthopedic surgery.

"As the first lady of Vail, Betty Ford will always be known for her courage, kindness and tenacity," said Ann Kurronen, the Gardens' executive director. "These are traits that perfectly describe this year's recipient, Dr. Steadman. We are so pleased to recognize him with this award."

The Spirit of Betty Ford Award: A Tribute to Dr. Richard Steadman will be held Thursday, Aug. 13, at Vail's Donovan Pavilion. A jacket-and- tie reception begins at 5:30 p.m., followed by a tribute with guest presenter General Peter Dawkins. Dinner will follow the tribute, concluding with a live auction conducted by Christie's of New York. For tickets or more information, call 970-476-0103, ext. 3.

With the vision of being recognized as the foremost authority on high-altitude plants in natural and cultivated landscapes in the Rocky Mountains region and similar environments, the Betty Ford Alpine Gardens, at 8,250 feet above sea level, is the highest botanical garden in the United States, and perhaps the world, providing free access to an estimated 100,000 visitors annually. The organization plays an important role in encouraging summertime flower displays throughout the Vail Valley at both private homes and businesses and is active in displaying and working for the conservation of high-altitude plants.

The Betty Ford Alpine Gardens is a 501(c)(3) nonprofit organization for which operations and programs are funded entirely through the generosity of donors. For more information, visit www.bettyfordalpinegardens.org.


1 Comment on "Alpine Gardens to honor Dr. Richard Steadman with Spirit of Betty Ford Award in Vail Aug. 13"