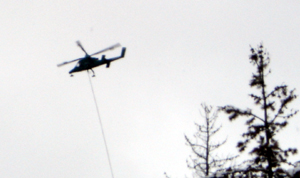 Wildfire mitigation project comes to a close
By realvail.com
November 4, 2007 — A helicopter operation to fly out downed timber as part of pine beetle mitigation and wildfire fuel reduction work in the West Vail area has been completed. See related story at Could California-style wildfires happen here?


Timberline Helicopters, Inc., of Laclede, Idaho, was hired by Eagle County to fly the timber out of the area, which included work on a combined 50 acres of private, Town of Vail and U.S. Forest Service land in September and October. The helicopter flew approximately 6,500 trees (or 75 trees per hour) to a designated area where the trees are now being hauled to Confluence Energy in Kremmling to be turned into premium wood pellets.


According to Mark Mathis of Confluence Energy, the timber will be turned into approximately 3,000 tons of premium wood pellets, which can heat approximately 1,000 homes for the winter season and accounts for an estimated $400,000 in savings when compared to traditional heating costs. When converting these trees to pellets and burning them to heat homes, Mathis says it's also equal to taking 6,000 vehicles off the road for the winter season as part of an overall reduction in carbon dioxide emissions.


Clean-up of the loading area will continue through the next week and will be followed by revegetation of areas where heavy equipment was used. The remaining limbs and tree tops will be stacked in spring 2008 and are scheduled to be burned in fall 2008 when conditions are optimal. Additionally, a month-long pile burn above Westhaven Drive and Greenhill Court is taking place this fall to complete work from last summer's project. The pile burn is being managed by the U.S. Forest Service, Eagle County and the Vail Fire Department.


Vail Town Manager Stan Zemler says the partnership among the town, Eagle County and Forest Service has been effective in completing large-scale projects in short periods of time. "In the past three years we've made strides in creating defensive space buffers around Vail," said Zemler. "The support of and collaboration among the Vail Town Council, Forest Service and Eagle County has been the key to making these projects successful."


This is the fourth project in the last three years the town and Forest Service have
completed, and the first with Eagle County as a partner. Last summer, crews completed work on approximately 16 acres of land above Westhaven Drive and Greenhill Court, which included flying 2,100 trees out of the area via helicopter. Fuels reduction and forest enhancement work was also completed in 2005 in the Donovan Park upper bench area and in 2003 in the Bighorn neighborhood in East Vail, Chamonix neighborhood in West Vail and on public lands adjacent to the Vail Falls Condominiums in East Vail. The work is part of the Vail Valley Forest Health Project, which includes removing dead trees and improving aspen stands throughout the area.


According to Eagle County Commissioner Peter Runyon, the county and its partners will continue to be proactive and initiate fuel reduction projects in Vail and other areas of the county. "We're happy to have completed this significant step in what will be an ongoing process in protecting our communities from the increased wildfire danger," said Runyon.


In addition to pile burns scheduled for this year and 2008, forest health treatments are also scheduled to take place next year near the North Trail adjacent to Davos Trail; along the north side of I-70 between the Son of Middle Creek Trail and North Trail; along the North Trail that begins in the Red Sandstone neighborhood; and areas adjacent to Potato Patch neighborhood.
For more information, contact Eagle County Wildland Mitigation Specialist Eric Lovgren at 328-8742 or Vail Fire Department Wildland Coordinator Tom Talbot at 401-4202.


Comment on "Wildfire mitigation project comes to a close" using the form below