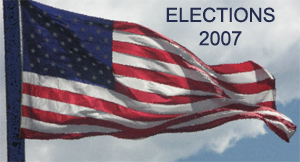 Big change coming to Vail government
By Tom Boyd
November 4, 2007 — No matter the results, Vail will be voting for change this Tuesday at municipal elections: Ten candidates are campaigning for five open council seats and only two candidates are incumbents (see sidebar for list of candidates and voter information).


The results will put several new faces in council chambers as developers seek approval for the final stages of Vail's renaissance, which includes several large, yet-to-be-approved projects in Lionshead and West Vail, among others.


Development concerns, affordable housing and the environment have long been pivotal issues, in a general sense, for Vail voters. In 2007, these concerns have manifested themselves in a slowly building sense of apprehension among voters that developers outmaneuvered town officials during the early stages of Vail's current – and massive – redevelopment.

These sentiments were perhaps best stated by Dick Cleveland, a candidate in this year's election:


"Were we overmatched with some of the negotiations with developers? Yes. I don't know how to say it any other way. Yes."


Cleveland should know. He sat on council during some of the negotiations between the town and developers.


"We didn't make the developers take the risk of needing to fill the beds in order for their investments to pay off," said candidate Susie Tjossem. Once the new dwelling units or hotel rooms were sold off to private owners or hoteliers, she said, developers were off the hook.

Voting information
Voters will choose five members of the town council and the fate of a proposed construction tax Tuesday, Nov.6. Ten canditates will vie for the five council seats, and the ballot for Vail's regular municipal election will also include a four percent construction use tax question to become effective Jan. 1, 2008. Early voting began Oct. 25.

The polling place for all Vail voters is the Vail Municipal Building, located at 75 South Frontage Road.


The council candidates are:
Kim Newbury (incumbent), Bob McKown, Stephen Connolly, Scott Proper, David Irwin, Susie Tjossem, Dick Cleveland (previous council experience), Andy Daly, Margaret Rogers, Kevin Foley (incumbent)


The ballot question reads as following:
Question No. 1
SHALL THE TOWN OF VAIL'S TAXES BE INCREASED BY $4,000,000 IN FISCAL YEAR 2008 AND BY WHATEVER ADDITIONAL AMOUNTS ARE RAISED ANNUALLY THEREAFTER THROUGH THE ADOPTION OF A USE TAX ON THE PRIVILEGE OF STORING, USING AND/OR CONSUMING IN THE TOWN OF VAIL ANY CONSTRUCTION AND/OR BUILDING MATERIALS PURCHASED AT RETAIL INSIDE OR OUTSIDE THE TOWN, AT THE RATE OF FOUR PERCENT (4%) OF THE RETAIL COST OF SUCH MATERIALS AND SHALL THE TOWN BE AUTHORIZED TO COLLECT AND SPEND SUCH REVENUES, INCLUDING ANY INTEREST AND INVESTMENT INCOME THEREON, EXCLUSIVELY FOR CAPITAL ACQUISITIONS AND CAPITAL PROJECTS IN THE TOWN OF VAIL AS A VOTER APPROVED REVENUE CHANGE NOTWITHSTANDING ANY REVENUE OR EXPENDITURE LIMITATION, INCLUDING THOSE CONTAINED IN ARTICLE X, SECTION 20 OF THE COLORADO CONSTITUTION?


County voters will also decide on three Eagle County Board of Education members. In District G Judd Babcock is challenging incumbent Jason Benderly. In District C Keith Thompson, incumbent, is challenged by Carrie Benway. Two newcomers are vying for the District D seat: Margaret Olle and Jeanne McQueeney.

The end result, other candidates have agreed, is that Vail might be in danger of having a beautiful new town which looks fantastic, serves visitors and tourists well, yet suffers from a lack of vitality. This isn't a new concern, yet the magnitude of new developments have raised the magnitude of the concerns. Sales tax revenues, for example, used to account for about 60 percent of town revenues, whereas the recent decade has seen that number level out around 39 percent.


Candidate Stephen Connolly framed this issue in a larger context: "If you look around the world the gap is widening between the have and the have-nots," he said. "I don't think civil war is going to break out here, but there's an argument that the middle class goes to Wal-Mart and don't spend money (in the Vail Village), but in fact they do."


Housing issues interweave with these concerns as well. The ongoing effort to bring more families and more year-round locals to the town is perceived as an effort to keep the town lively and increase sales tax revenue. Incumbent Kim Newbury has pointed out that, at least in this election, all the candidates agree that affordable housing is important, not only for seasonal workers, but for middle-income families, too.


The ongoing problem with forest health has been an issue this voting season as well. Candidates Andy Daly and Cleveland have been vocal about the continued need for cooperation with the Forest Service to mitigate fire danger.


Daly, a former Vail Resorts executive, has also pointed out that he is qualified to fill the perceived leadership void which will be created by the departure of current Mayor Rod Slifer.


Recreation facilities also play a role. Candidate Bob McKown, in particular, is leading the movement to bring an aquatic center or, at the very least, improved recreational facilities to the town. Daly has suggested that the best solution might be to dissolve the Vail Recreation District and return control of recreation facilities and programs to the town itself.


Other candidates have differed in their efforts to convince voters that they are well prepared to defend Vail against such lethargy.


Candidate Margaret Rogers said her experience as a corporate lawyer would put her in a good position to, "play hard ball" with developers when necessary.


David Irwin said his experience as a developer, and a successful one at that, makes him well suited to keep Vail on track toward bringing in more locals. He was the only candidate to receive applause at an Oct. 18 debate when he mentioned that parking for locals should be much simpler, easier, and cheaper.


Kevin Foley recommended exploring Forest Service land around the town as possible sites for new housing.

Scott Proper
has voiced the opinion that town government doesn't have a lot of control over what housing developments go where, and that infrastructure concerns might be being overlooked. As a member of the Vail Recreation District board, he has first-hand experience with the current challenges faced in that arena: "Ultimately there wasn't enough strategy when the Rec District was formed," he said.

Comment on "Big change coming to Vail government" using the form below