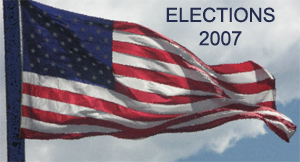 Daly leads five to Vail council seats
Cleveland, Rogers, Newbury, Foley also win seats
By Tom Boyd
November 6, 2007 — Vail town election results are in, so we'll get straight to the point. The following five candidates made the cut:

Andy Daly: 690 votes
Dick Cleveland: 616
Margaret Rogers: 469
Kim Newbury: 466
Kevin Foley: 407


Newbury and Foley are elected to two-year terms, while Daly, Cleveland, and Rogers are elected to four-year terms.


The following five did not make the cut:
Bob McKown, David Irwin, Susie Tjossem, Stephen Connolly, and Scott Proper


The construction use tax passed by a margin of 479 to 436.


Notable reactions
Sitting councilman Farrow Hitt, the most senior councilperson and mayor pro-tem for the past two years, on his aspirations to become the next Vail mayor:
"The mayor doesn't yield any more power but the mayor takes input from everybody and leads the charge. Rod's done a very good job with that, and I feel confident that I could carry the torch. But, my fellow councilpeople are going to have to agree."

Mark Gordon, on what the next council can accomplish:
"We need to continue the momentum and use the accomplishments of the past two years as a base to go even further," he said from an election celebration at the Bully Ranch restaurant Tuesday evening, Nov. 6. "


Gordon, on whether or not the community-factor is important if you want to be the No. 1 ski resort in the country:
"If all you want to be is the No. 1 ski resort in the nation you're right it doesn't matter," he said. "But I don't want to be the No. 1 ski resort in the nation I want to be the No. 1 ski town in the nation, if not the world. "


New councilman Dick Cleveland, on the passing of the use tax:
"I'm really excited that it passed, it certainly makes our job easier, it gives us more options for the future, I think the whole town will be better off. Tonight is definitely better than it was two years ago, when I was NOT re-elected."


Town Manager Stan Zemmler, on if three new council members indicates a sea change in town policy:
"I don't think it's a sea change, it's a good transition that allows for good continuity. Those who have a good background, who have knowledge and experience, are obviously smart people who will bring some fresh new perspective … "



Comment on "Daly leads five to Vail council seats" using the form below