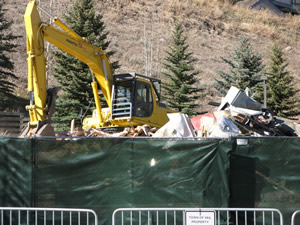 The day after Vail voters passed a construction tax to pay for capital projects such as a new West Vail fire station, the town tore down the old Wendy's restaurant where the new station will be located.
David O. Williams
Construction tax a nice surprise for new Vail Town Council
Moffet calls 4-percent use tax his parting gift to incoming council
By David O. Williams
November 7, 2007 — If you're a newly elected politician, there's nothing better than being handed a fat new tax source right as you're taking office.


"It blew me away," Tuesday's top vote-getter Andy Daly said of the narrow passage of a four-percent use tax on construction materials for any project that pulls a building permit in the Town of Vail. "I was absolutely shocked that it passed and I'm delighted that it passed."


Proponents, including outgoing council member Greg Moffet, put the tax question on the ballot in hopes of tapping into Vail's extraordinary $2-billion-plus redevelopment boom and catching up on $25.8 million in critically needed infrastructure upgrades over the next five years.

Nov. 6 election results
Vail Town Council
Andy Daly - 690 votes (four-year term)
Dick Cleveland – 616 (four years)
Margaret Rogers – 469 (four years)
Kim Newbury – 466 (two years)
Kevin Foley – 407 (two years)
Scott Proper - 349 (not elected)
Susie Tjossem – 336 (not elected)
Bob McKown – 304 (not elected)
David Irwin – 190 (not elected)
Stephen Connolly – 130 (not elected)

Vail Question No. 1, a 4 percent use tax on construction materials in Vail – approved 479 to 446


Vail voter turnout - 946 ballots cast (24 percent)


Eagle-Vail Metro District Referendum 5A, a property tax continuation to fund a new pool, trail system and improvements to golf course and community pavilion – approved 533-220


Singletree approved by a 407-204 margin improvements to the Winslow Road entrance, but rejected burying power lines 311 to 278.


Eagle County School District RE50J Board of Directors
District A (four years): Connie Kincaid-Strahan (unopposed) – 2,677 votes
District C (four years): Carrie Benway defeated Keith Thompson – 2,009 to 1,440
District D (four years): Jeanne McQueeney defeated Margaret Olle – 1,949 to 1,303
District F (two years): Brian Nolan (unopposed) – 2,658
District G (two years): Jason Benderly defeated Judd Babcock – 1,962 to 1,335

"My personal feeling was (the tax) didn't have enough accountability with it, and being part of the new council I'll make sure that that is part of the deal and we'll do projects that are an efficient use of tax dollars and benefit the broader community," said Daly, a former president of Vail Resorts who garnered the highest number of votes for Town Council Tuesday (690) to earn a four-year term.


The third highest vote-getter, Margaret Rogers (469), also did not expect the use tax to succeed.
"I'm surprised, actually, that that passed," said Rogers, a retired attorney who also won a four-year term. "I'm glad it passed; it'll make our job a lot easier. We need to start thinking about how we want to prioritize the projects that need to be done, get some realistic costs for them including getting some bids for them and pairing projected revenues against projected expenses."


One of the items on the town's wish list is a new fire station in West Vail, where Vail acquired a lot housing a Wendy's. Demolition crews tore the restaurant down on Wednesday, the day after voters approved the use tax by a scant 33 votes (479-446).

"I'm really excited that it passed," said Dick Cleveland, who won a four-year term with the second highest vote total (616). "It will certainly make our job a lot easier. It gives us more options for the future, and I think the whole town will be better off because of it."


Kim Newbury, one of two incumbent council members (with Kevin Foley) who won re-election to two-year terms, did not vote to put the use tax on the ballot because she was out of town, but she in the past expressed concerns that the proposal was too vague.


"Actually, in the end I was in favor of it," Newbury said. "What I thought at the time was the council could have done a better job of explaining exactly what we needed it for, and that's why I wasn't in favor of it because I felt we were kind of throwing it against the wall and seeing if it would stick. I think it will definitely benefit the town for capital projects."


Term-limited former council member Moffet said the open-ended nature of how the tax revenues can be spent will not be a problem.


"It gives (the town) more freedom to fix the streets and build fire stations and build basic infrastructure," Moffet said. "This is not going to be money spent frivolously, because we've got a pretty responsible new group. The use tax is my parting gift to the next council."


Comment on "Construction tax a nice surprise for new Vail Town Council" using the form below