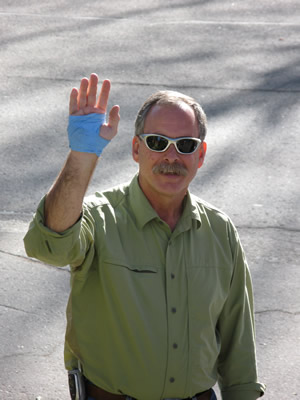 Dick Cleveland cut his hand on election day, but since then his luck has turned. He was sworn in at noon today, Nov. 13.

Two years after being voted out of office, Cleveland is Vail's new Mayor
Former VR exec Daly is Mayor Pro-Tem
By Tom Boyd
November 13, 2007 — Things were not looking good for town council candidate Dick Cleveland on the night of Nov. 1, 2005. The DA's investigator and original chairman of the Eco Trails program received the news that he had not, in fact, been re-elected to the Vail Town Council.


Cleveland was one of several council members who had voted against the Solaris project, and many saw Cleveland's departure from council as a backlash from the general public, which wanted the large new development to replace the old Crossroads Mall on Meadow Drive, near the center of Vail Village.


Two years and 12 days later, Cleveland is back on the council and is now the mayor of Vail, voted in by his council peers today, unanimously.


"When I was defeated for re-election that was a real blow to me," Cleveland said. "It made me question what I'd done right and what I'd done wrong, but I've figured out that it's just politics, and those kinds of things happen. That defeat will make me a better person on this council."


Also unanimous was the election of Andy Daly as mayor pro-tem, or vice-mayor. Many pegged Daly as a strong candidate for mayor because he received the largest share of the voting public's support on Nov. 6, yet Daly is a newcomer to council, whereas Cleveland has four years of previous experience.


Former Mayor Rod Slifer, currently in Florida, called Cleveland to congratulate him on his new office. Cleveland will preside over his first meeting Tuesday, Nov. 20.


Although Cleveland said that he and Slifer are "two different people," he also said Slifer is "one class guy," and that he has nothing but "the greatest respect" for Slifer.


Cleveland's recent rise to the top may be an indication that the fickle voting public has once again switched its alliances. After mopping up a council that disapproved of the Solaris project, Cleveland was voted into office after proclaiming, at a council debate Oct. 18, that Vail had been, "…overmatched with some of the negotiations with developers…"
Vail's new town council
Farrow Hitt
: As one of two incumbents and the most senior sitting council member, Hitt had voiced interest in becoming mayor.
Mark Gordon
: Another incumbent, Gordon had said he'd like to be mayor, but wasn't counting on it.
Andy Daly:
Daly received 690 votes, the largest share in the Nov. 6 election. A former Vail Resorts executive, Daly is accustomed to leadership, yet how he'll deal with his former employer is yet to be seen.
Dick Cleveland:
Voted off the council in 2005, Cleveland received 616 votes this time around and has been elected mayor of Vail.
Margaret Rogers:
With a hawkish legal background, Rogers received 469 votes after saying that she would, "play hard ball" with developers, but only if it became necessary.
Kim Newbury:
Re-elected to council with 466 votes, Newbury earned herself two more years on the council.
Kevin Foley:
Also re-elected, Foley gained 407 votes and two more years.

Council members will have some new money to play with: the construction use tax passed by a margin of 479 to 436 in the Nov. 6 election.

"During the election process we heard loud and clear that, with the developments going on, people in town are concerned that they want to make sure the town is making the right decisions," Daly said. "(People think the town) has been making the right decisions, but they want to make sure that the new council members are smart and will be aggressive in protecting the town's best interest as re-development continues to occur."


Cleveland's stance isn't exactly anti-development, but the members of the newly elected council appeared wary of further developments during the campaign season. At the Oct. 18 debate, mediated by realvail.com, new council member Margaret Rogers said she was ready to "play hard ball" with developers – a stance that may have garnered her the third highest number of votes in the Nov. 6 election.


The role of mayor may seem purely formal, but in fact comes with an elevated level of responsibility, says one former mayor.


"The mayor's job is more than just to be the ceremonial head of the town, it requires managing, facilitating all of the town council meetings, which is setting the agenda, following the agenda, directing the meetings," said former Mayor Bob Armour, who served from 1995-1997. "He's also our representative on a number of boards and organizations, like Colorado Association of Ski Towns (and others)."


Comment on "Two years after being voted out of office, Cleveland is Vail's new Mayor" using the form below