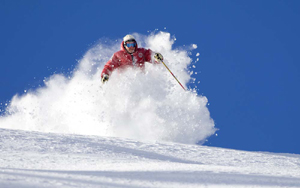 Ever since Dec. 2, when this photo was taken, Vail has been getting perpetually pounded with snow.
By Jack Affleck/Vail Resorts
Blue Sky Basin, portions of Back Bowls to open
New Highline lift to come online Satuday
By realvail.com
December 6, 2007 — It seems so long ago, already, when Vail was short on snow.
Now we have more than we could ask for, and if you want proof, check out Vail Resorts' plan to drop the ropes and open Blue Sky Basin as well as portions of terrain in China, Sun Up and Sun Down Bowls on Saturday, Dec. 8. Over the weekend Vail's terrain will jump to more than 3,500 acres with 145 trails serviced by 23 lifts.
The following lifts are set to open on Saturday, Dec. 8, along with portions of terrain in these areas.


High Noon Lift (Chair 5)


Riva Bahn Express Lift (Chair 6)


New Highline Express Lift (Chair 10)


New Sourdough Express Lift (Chair 14)


Cascade Lift (Chair 20)


Orient Express Lift (Chair 21)


Teacup Express Lift (Chair 36)


Skyline Express Lift (Chair 37)


Pete's Express Lift (Chair 39)


The newest additions to Vail's network of high speed quad chairlifts are set to officially open for the season on Saturday, Dec. 8 at 9:15 a.m. The Highline Express Lift, also known as Chair 10, will offer bump enthusiasts a full day of skiing and riding before lunchtime thanks to a new ride time of approximately seven minutes.
To celebrate the lift's debut, a ribbon cutting ceremony is scheduled for 9:15 a.m. Saturday morning. In addition, the new Sourdough Express Lift (Chair 14) also opens for the season.
Both new state-of-the-art high speed quad chairlifts will provide a faster route to reach Two Elk Restaurant, China Bowl and Blue Sky Basin, making the Golden Peak mountain access portal capable of moving more skiers to the top of the mountain in less time.
The new Highline Express Lift will still deliver skiers and riders to the top of Highline and adjacent expert trails. The new Sourdough Express Lift will provide access to one of the resort's popular beginner areas at the top of the mountain with three green runs.
The weekend's lineup of non-stop activities also includes the Dummy Gelunde World Championships where homemade "dummies" on snow sliding gear crash and burn off a big air jump at the base of Golden Peak. Saturday evening Ludacris and The Roots take center stage at Ford Park for an outdoor concert. Doors open at 4 p.m. and concert information is available at www.vailsnowdaze.com.
Skiers and riders can refuel at The Wildwood Smokehouse on Friday, Dec. 7. The Golden Peak Grill and Two Elk Restaurant will open for the season on Saturday, Dec. 8.

Comment on "Blue Sky Basin, portions of Back Bowls to open" using the form below