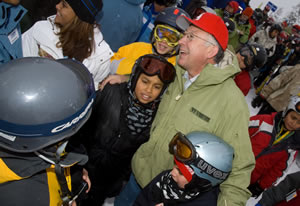 Colorado Sen. Ken Salazar was a popular man on Vail Mountain Saturday, thronged by at-risk kids from Denver and Eagle County.
By Dan Davis
trekkerphoto.com
Sen. Salazar says future of skiing hinges on minority participation
Hispanic lawmaker lauds SOS for getting low-income, at-risk youth into the sport
By David O. Williams
December 11, 2007 — Sen. Ken Salazar, a fifth-generation Coloradan who grew up on a ranch in the San Luis Valley, never clicked into a pair of snow skis until he was 25 years old.


Now the former state attorney general who was elected to the Senate in 2004 tries to go skiing at least a few times a year despite living in the alpine-challenged environs of Washington, D.C.


He'll get in a couple of ski days while he's home during the holiday break, which promises some prime powder, and then will probably pop back out for a day or two in March. His cattle ranching background aside, winter sports are now in his blood.


"I didn't start skiing until I was 25 because I couldn't afford it, so I never went even though ski areas were not too far from the valley: Wolf Creek, for example, or Purgatory around the other side," Salazar said Saturday on Vail Mountain during a rebranding ceremony for the Snowboard Outreach Society (now SOS Outreach), which is aimed at including skiing in the nonprofit's 14th year.


"I never went skiing because I couldn't afford it, and there are ways that programs like SOS make it possible for kids to get these first opportunities, which builds character and confidence more than anything," Salazar told realvail.com. "I always say to kids all over the country, 'if you develop confidence in one thing, you can do anything. You just have to be confident that you can do one thing well and it will spread.'"


Salazar was mobbed like a rock star by low-income and at-risk youth from Eagle County and Kepner Middle School in Denver, all of whom are the target of a massive outreach by SOS, Vail Resorts and the Vail Valley Foundation, which Saturday contributed $60,000 to the SOS cause.


Vail Resorts this season turned over its minority outreach program to SOS to coordinate at all five of its ski areas in Colorado and California.


"With SOS, the good thing versus what we were doing before is they have that whole character piece, so it's both. It's not just getting somebody on skis, but it's actually talking to them about some life lessons," said Vail Resorts President and CEO Rob Katz, whose company donates lift tickets and equipment. "So you marry those two things together and I think it's really terrific."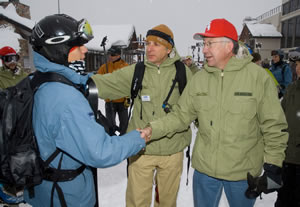 Colorado Sen. Ken Salazar and Eagle County Commissioner Arn Menconi, founder of SOS Outreach, work the crowd Saturday during a rebranding ceremony in which SOS announced its new name and the fact it will now teach skiing in addition to snowboarding.
By Dan Davis

SOS programs this season will teach skiing and snowboarding to more than 3,000 youths at 30 mountain resorts in eight states. SOS will provide more than 90 sessions during the 2007-08 season, with more than 15,000 program days supported by 600 volunteers.


Salazar says the SOS programs are critical to the future of the ski industry on two fronts.


"First, we need to have skiers enjoying one of the great attributes that we have here in Colorado," said Salazar, one of only two Hispanic senators elected since 1977. "When we reached twelve and half million skiers last season it adds an incredible amount into our economy here in Colorado, so we need to continue to attract skiers.


"Secondly, these kids, like the ones from Kepner, are kids who are at-risk and otherwise would not have the opportunity to have their eyes opened up. They'll be back here as fully contributing adults and be part of the ski world in a few years, and it's important for us to be recruiting them. It builds character and makes successes out of their lives, so I'm very proud of this program."


Avon's Zander Lucero, a seven-year veteran of SOS and a 16-year-old sophomore at Eagle-Vail's Battle Mountain High School, says he would never have had the means to snowboard if not for the program founded by a group of Vail snowboard instructors in 1993.


"They taught me the five core values," Lucero said, "which are courage, integrity, wisdom, compassion and discipline, and they showed me how courage can make me feel better, and how discipline makes you push yourself to do the right thing, and how integrity is just being honest with everyone."


Eagle County Commissioner Arn Menconi, an SOS founder, said in his opening remarks that incorporating skiing was a natural evolution.


"We all knew a long time ago that what was on our feet was simply a vehicle, but our passion for winter sports is what fuels us," Menconi said. "We started with a goal of teaching snowboarding, and now we are seen as a model for sports-based youth development …"


Also on Saturday, the group honored Bill Jensen, president of the Vail Resorts Mountain Division and Chairman of the National Ski Areas Association, by awarding him the first SOS Humanitarian of the Year Award for "his leadership and vision in bringing attention and resources to minorities in the sport."


Comment on "Sen. Salazar says future of skiing hinges on minority participation" using the form below