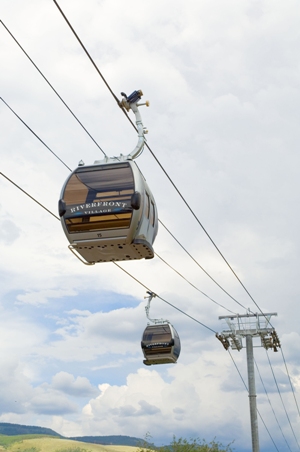 The new Riverfront Express Gondola, which connects Avon to Beaver Creek, started running for the first time Thursday, Dec. 20.
By Dan Davis
trekkerphoto.com
New gondolas up and running at Beaver Creek
Avon connection expected to serve as catalyst for downtown boom
By David O. Williams
December 21, 2007 — Beaver Creek, bereft of gondolas since the resort first opened in 1981, suddenly finds itself with two in one year.


The new Riverfront Express Gondola, which rises from the yet-to-be-completed Westin Riverfront Resort & Spa on the southern edge of Avon just across the Eagle River from Beaver Creek, began operation on Thursday, Dec. 20 – just in time for the holiday rush.


And though it's been running since November, the new Buckaroo Express Gondola at Beaver Creek's beginner Haymeadow area gets the official nod in a ceremony today (Saturday, Dec. 22) at 9:15 a.m., with the obligatory ribbon cutting, chocolate chip cookies and other entertainment. Both gondolas are quite short by industry standards, each taking passengers on about a three-minute ride.


The Buckaroo Express, which rises right out of the Park Hyatt, keeps beginners warm and comfy on the way up the hill as they struggle to learn the finer points of the sport on the way down, and it also alleviates previous logjams with too many young kids queued up to ride the old chairlift but not enough adults to ride with them.


But it's expected the Riverfront Express Gondola will have a much greater economic impact on the town of Avon and the flow of skiers up to Beaver Creek. The gondola creates a new portal to the mountain by crossing the river and Highway 6 and depositing snow riders at Beaver Creek Landing, a mixed residential and commercial project where people can then catch a high-speed quad chairlift on up to Bachelor Gulch and the Ritz-Carlton.

Another high-speed quad then takes riders on to the top of Beaver Creek Mountain, near where the Strawberry Park lift also deposits skiers originating in Beaver Creek Village. The new gondola obviously will benefit guests of the $500 million Westin project once it's completed in the summer of 2008, but Avon is counting on spillover benefits for the entire downtown area and guests of all the surrounding properties.


Avon is building a new pedestrian mall near the Westin called Main Street, within walking distance of a new transportation center that currently is served by buses but one day may feature light rail trains from the Eagle County Airport, 30 miles to the west.


"Light rail out to the airport is something that I think might happen at some point," said Westin Riverfront project manager Chuck Madison of East West Partners. "It would be so nice to be able to just jump on the rail from there and come into downtown Avon. Whenever I'm in Europe, I always prefer going by rail (to ski resorts) because it's just so relaxing."


Built on 19 acres of riverfront land, the Westin's main hotel property features 120 for-sale studio suites and 95 two- and three-bedroom units, a 20,000-square-foot spa, a wellness center, shops and restaurants. The project will also feature of a mix of townhomes, fractional units and condos in several other buildings to be built in future phases.


"This property is uniquely suited to create synergy among Avon, Beaver Creek Mountain and the Eagle River so that Avon is positioned to take advantage of our area's most popular and valuable recreational activities," Madison said, alluding also to the new kayak park built in the river itself.


East West and Avon officials think Beaver Creek guests will appreciate the "sense of place" being created in downtown Avon, a formerly pedestrian-challenged town that now will center on the mall area and connecting recreation paths and parks along the river.


"The great thing about Vail is you don't need a car," Madison said. "You check into your hotel or condo and you have this wonderful circulation bus system, and that's where Avon is trying to go - less vehicle-oriented and more transit-oriented."
Which will lead to better connectivity for all the town's downtown cultural facilities, Avon officials say.


"I'm excited that we have such an opportunity to use the town's assets to the fullest," said Avon Town Council member Tamra Underwood. "The Main Street project will not only make the most of Avon's proximity to Beaver Creek, but also showcase the town's own remarkable amenities in Harry A. Nottingham Park, the Avon Recreation Center and our valley's best library."



Comment on "New gondolas up and running at Beaver Creek" using the form below