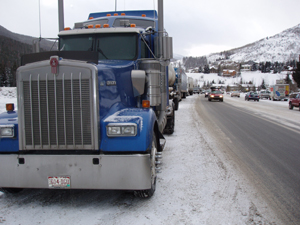 Trucks and other vehicles lined the North Frontage Road Dec. 31 as Vail continued to get pounded by heavy snows and high winds. The weather is good news for those who can enjoy the snow over the next few days, but it left over 130 stranded in Salvation Army shelters in Vail.
By Tom Boyd
Community comes together to help stranded motorists
By Tom Boyd
December 31, 2007 — Road closings along I-70 left at least 130 people in shelters Dec. 30 throughout the Vail Valley, according to the Vail branch of the Salvation army.


Shelters were also being prepared for New Year's Eve as of 5 p.m. Dec. 31.


I-70 Westbound opened around 4 p.m. Dec. 31, but the East Bound section of Vail Pass was still closed as darkness fell on yet another bitterly cold day in Vail.


"We're hoping to get out of here and catch our 1 a.m. flight," said Glenn Harris, who, with his family of 5 was stranded in the lobby of the Holiday Inn Apex in West Vail Dec. 31. "But the hospitality here in Vail has been very good."


The Apex Vail opened its doors to about 75 stranded motorists Dec. 30 after more than 130 people had filled Vail shelters to capacity. The Vail Chapel and Municipal Building hosted about 100 people, said officials from the Salvation Army. 


"It's amazing the partnerships that we have," said Tsu Wolin-Brown of the Salvation Army. "Eagle Police sent over a policeman to help, the Episcopalians were out in force, Debbie Marquez brought breakfast burritos to the people in the shelters … it's such a great community."


Scott Mohr of the West Side Café and Market said stranded motorists filled his café all morning, then business died down as many people found places to stay or made the long trip back to Denver via Leadville and Highway 285.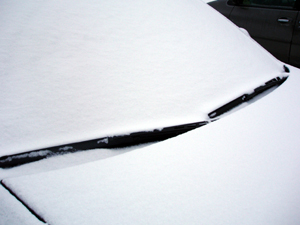 Whiteout conditions prevailed in Vail as I-70 remained closed for about 18 hours. Many motorists simply left their cars in parking lots or on the side of the road, retreating to the warmth of restaurants, hotels, and shelters.
By Tom Boyd

"It's slow going but really hasn't been too bad," said Jim Mills, who drove a party of four from Vail to Denver Dec. 31. They spent about five hours in their 4WD SUV on the drive back to Denver in order to make a friend's New Year's Eve party.


Others chose to use the road closures as an excuse to ski more and spend New Year's Eve in Vail. Jason Barnette of Pensa Cola, Fla., came to Vail Dec. 29 for a quick ski trip and found he couldn't return to Evergreen, where he, his brother, and his sister are staying at the home of a young woman named Angie.


"Angie is stuck house sitting three dogs on New Year's and she's pretty upset about it – she doesn't want her New Year's kisses to be from the dogs," Barnette said.


"I kinda wanted to stay here in Vail for New Year's anyway," he added, "So it worked out allright for me – not so much for my brother and sister."


Comment on "Community comes together to help stranded motorists" using the form below