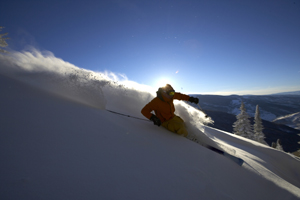 Vail skier Bruce Ruff inks the canvas at Vail Jan. 2. Snow like this comes thanks to big snowfall totals in December.
Photo courtesy Jack Affleck/Vail Resorts
Vail, BC revel in one of best Decembers yet
Near-record month of snow falls in Beaver Creek, Vail
By Tom Boyd
January 2, 2008 — They used to say "three" is the magic number.


At Vail and Beaver Creek, however, 100 and 90 are the magic numbers. These are the total snowfalls in December for the two ski hills, giving them some of the best December snowfall totals on record.


"Vail is enjoying fantastic conditions and the above average December snowfall is great news for skiers and riders," said Vail Resorts spokesperson Jen Brown. "Skiing and snowboarding more should be a top New Year's resolution this season."

Vail reported 97 inches at Mid Vail as of 6 a.m. Monday, yet another 2.5-to-3 inches fell on the final day of the year, bringing the December total to 100 inches. The average snowfall at Vail in December is 59 inches.


At Beaver Creek, the snowfall totaled 90 inches at mid-mountain during the month of December. That's nearly three feet above the 55-inch December average. It's also the biggest December snowfall on record since 1996 for Vail's sister resort.


As of Dec. 31, Beaver Creek had totaled 141 inches of snow this year, nearly two feet above the 119-inch average.


The year-to-date snowfall at Vail Mountain was 145 inches as of Dec. 31, compared to a 117-inch average.


Comment on "Vail, BC revel in one of best Decembers yet" using the form below