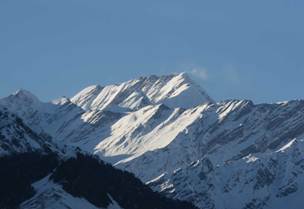 The high peaks of the Himalaya have been largely unskied due to political instability and lack of access. But this area of northern India may soon see more skiers and snowboarders if the Himalayan Ski Village project gets off the ground.
Special to realvail.com
Former Vail execs, managers lead Asian ski boom
Snow sports industry looks to tap growing middle class in China, Russia, India
By David O. Williams
January 5, 2008 — The hurdles to developing major new ski areas in China, India and Russia are numerous and overwhelming – from seeking approval from local deities to coping with wolves to training Kazak horsemen to run lifts – but so, too, are the potential rewards.


Colorado ski executives, who have seen nationwide participation in skiing and snowboarding wane from 12.9 million in 1990 to 11.6 million in 2006 (or a mere 3 percent of the overall population), are chomping at the bit to tap into massive and underserved Asian markets.


Three percent of China's estimated 2007 population of 1.3 billion, for instance, would represent a whopping 43.3 million new snow riders. And a growing middle and upper class with disposable income is making recreational pursuits like skiing feasible.


"Twenty years ago the Chinese were worried about feeding themselves, and now this huge economic engine has gotten started to the point that it's really the talk of the world," said former Keystone mountain operations director Chuck Tolton, who's been hired to help launch PingTian Resorts in northwest China. "There is a burgeoning middle class, and the economy is very healthy and robust."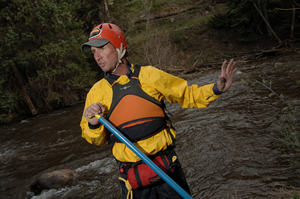 Billy Mattison, a renowned raft guide and ski patrol supervisor at Vail, as well as an endurance athlete who once won the Eco Challenge as part of Team Vail, is currently involved in the launch of a destination ski resort in northwest China.
By Dan Davis

PingTian, in the Xinjiang autonomous region near the city of Urumqi, is being billed by its Harvard-educated developer, Thomas Ching, as China's first world-class destination ski resort. Originally slated to welcome snow riders in November, the resort pushed back its opening till November of 2008 due to regulatory hurdles.


Ching heads up a foreign consortium that plans to pump $300 million into the resort in coming years, launching phase 1 with a village area, five chairlifts and 300 skiable acres on a 10,000-foot peak in the Tianshan Mountains. The year-round resort will eventually expand to 1,100 acres with a 3,600-foot vertical drop.


"The calendar was beginning to force us into half-baked solutions, and that's not what PingTian is about," Ching said in a release. "Actually, the delay was an easy decision."


Billy Mattison, a former Vail ski patrol supervisor and endurance athlete, is also part of Ching's team, and says he's eager to teach the locals all the tricks of the trade. Kazaks, descendants of the nomadic hordes that overran China at various times and precipitated the building of the Great Wall, will learn to run lifts, ski patrol and teach skiing.


"The economic boom that's going on in China is amazing," Mattison said. "People work hard in China and they've had their noses to grindstone for a long time, and now for the first time they've been able to pick their heads up and look around and figure out what they want to do with their money."


Mattison says he suspected a local may have poached a deer when he ran across a mangled carcass on the slopes, but the mayor of a nearby town informed him it was likely the work of wolves – something the former patroller never had to worry about in Vail.


Skiing the world's highest mountains


It's a bit ironic that the world's highest and snowiest mountains are virtually untapped for snow sports. Owing to political volatility and global isolation, the high mountains of central Asia have never been known as a skier's paradise.


Another company with American ties is looking to change that with the Himalayan Ski Village in the northern Indian state of Himachal Pradesh. Backed by India-phile and converted Krishna Alfred Ford, the great grandson of Henry Ford, the $250 million ski area is also aimed a rapidly growing local leisure class.


"Those with disposable income that would use this facility probably comes to 100 million people, or 9 percent of the population," said HSV managing director John Sims. "There is certainly more money in international tourism if we can attract it, but your bread and butter is domestic tourism."


According to his book "Sport and Adventure Tourism," professor Simon Hudson of the University of Calgary says there are 70 million skiers and snowboarders worldwide – 30 million in Europe, 20 million in the U.S. and Canada and 14 million in Japan. If even 3 percent of India's population of 1.1 billion took up skiing, that would be 36.6 million new snow riders.


But again, the challenges associated with tapping into that market are numerous and, in some cases, quite unexpected. Sims had hoped to break ground on the project, which is in the state just south of the worn-torn state of Kashmir, this past fall.


But regulatory hurdles, as well as the disapproval of the project by village oracles speaking on behalf of more than 100 Hindu deities who feared the ski area would "pollute the environment and culture," have delayed groundbreaking indefinitely.


If and when it every gets under way, Himalayan Ski Village will boast a base area designed by Vail and Beaver Creek architect Jack Zehren and ski trails laid out by Vail-based resort designer Mike Larson, who designed Vail's Blue Sky Basin and Telluride's Prospect Bowl, to name a few.


Final plans call for 700 five-star hotel rooms, 300 Swiss-style villas and a gondola that will take snow riders to altitudes in excess of 14,000 feet. The final number of lifts and total skiable acreage is still undetermined but potentially enormous.


To Russia with love


Executives at both Himalayan Ski Village and PingTian harbor dreams of one day hosting the Winter Olympic Games, something that's never occurred in central Asia, but another former Colorado ski exec is already living the dream.


Roger McCarthy, a New Zealander who's worked for both Intrawest (Whistler and Mont Tremblant) and Vail Resorts (most recently as COO of Breckenridge), is heading up the development of Rosa Khutor ski area in the Caucasus Mountains less than an hour from the Black Sea resort of Sochi, which last summer was awarded the 2014 Winter Games.


Backed by $265 million from Russian investors and the political will of avid skier President Vladimir Putin, Rosa Khutor is on track to open in December of 2008 and ultimately will include three gondolas, a six-passenger, high-speed chairlift, numerous other lifts, and a vertical drop of 5,000 feet.


Its location in the temperate far-eastern reaches of Europe, with good air access to the ski-mad alpine nations of central Europe and the jet-setting Middle Eastern oil kingdoms, makes Rosa Khutor an ideal destination for international ski tourists, but again, the domestic market is the big draw.


Three percent of Russia's population of 141 million would represent 4.7 million snow riders, and McCarthy sees his resort as a catalyst for growing those numbers well beyond the current estimate of 2 million skiers and snowboarders. Russia's economy is booming, with new money making alpine and adventure sports increasingly popular.


"It's a fascinating place," McCarthy says of Russia. "In Moscow you see Maseratis everywhere - they're like freaking pigeons. The new wealth is just phenomenal."


Comment on "Former Vail execs, managers lead Asian ski boom" using the form below