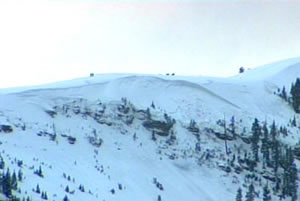 The slide above took place Jan. 4 and killed 27-year-old Jesse Brigham. Another slide, just east of this area, killed 33-year-old Matthew Gustafson Jan. 12.

Another life lost in East Vail Chutes
Huge risk results in terrible consequences
By Tom Boyd
January 12, 2008 — Matthew Gustafson, a 33-year-old Vail local, was killed by an avalanche while skiing Saturday in the East Vail Chutes.


Gustafson's is the second death in a little more than a week in the backcountry area adjacent to Vail that has long been a favorite adventure for expert skiers.


The avalanche occurred the morning of Jan. 12, and the Eagle County Sheriff's Department said it was notified by Jackie Rossman, who had been caught in the same slide but was able to dig out and call 911 on his cell phone. Both skiers were outfitted with avalanche beacons.


The slide took place in a little-skied portion of East Vail, just east of where a slide killed 27-year-old Jesse Brigham on Jan. 4.



On a day when the in-bounds skiing was so good and the avalanche danger was considerable because of all the recent snow, some questioned the need to be skiing in the backcountry at all.


That very morning, RealVail blogger and renowned big-mountain skier Chris Anthony was on local television rebuking anyone thinking of skiing the East Vail Chutes. Avalanche danger was "considerable," according to the Colorado Avalanche Information Center, and furthermore, the skiing in Vail's Back Bowls was as good as its been in years – as nearly every writer for this website has recently attested.


The location of the slide made rescue dangerous and difficult.


"It's an avalanche chute," Anthony said. "I think a lot of people get sucked into what looks most appealing to the eye. Usually it's gullies or big, open spaces without trees, but there's a reason that's the case."


Anthony stressed that route-finding is one of the critical components of minimizing avalanche danger.



1 Comment on "Another life lost in East Vail Chutes"